Tommy is reunited with his owner thanks to Facebook
Tabby cat Tommy, who had been missing for two weeks, has been reunited with his delighted owner thanks to Cats Protection's national Facebook page.
Tommy was handed in as a stray to our Warrington Adoption Centre by a member of the public. Upon scanning the cat for a microchip, the adoption centre staff found that he was registered to an owner over 200 miles away in Torquay, Devon.
However, the owner's details were not up-to-date so the centre couldn't get in touch with them.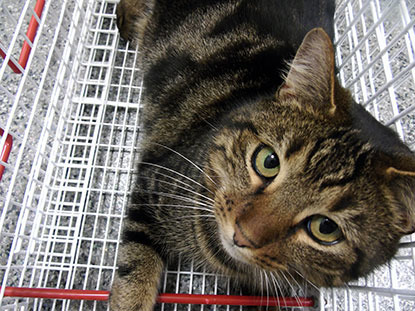 Tommy was brought into Cats Protection as a stray
They advertised the cat locally to try to find his owner, sent a letter to their previous registered address and reported Tommy as missing with the microchip company.
It was only when Tommy's photo and story were shared on our national Facebook page to over 350,000 people that someone got in touch to say that Tommy was theirs. Tommy's happy owner picked him up from the adoption centre yesterday.
Deputy Manager Anna Saillet says: "Tommy had been found very close to where he lived. Tommy's poor owners thought he must have been killed on the road and have had two weeks of upset.
"They have been advised to ensure that they update his microchip details as soon as possible to prevent the same thing from happening again.
"It's so nice to get a happy ending! Tommy was very pleased to see his owner."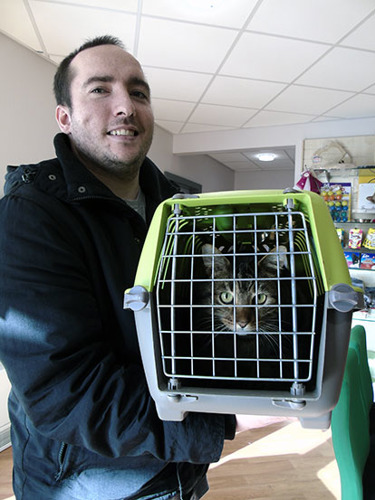 Tommy was collected by his relieved owner
Microchipping offers cats a safe and permanent method of identification and increases the chances of a lost cat being safely reunited with their owner.
Remember that you should update your cat's microchip details if you move home or change any of your details. You can update your cat's registered details by contacting your existing UK database company. You could also contact Petlog on 01296 336 579 or via www.petlog.org.uk; or Anibase on 01904 487 600 or via www.anibase.com