Will you help us to keep cats purring this Remember a Charity Week (5-11 September)? Meet some of the moggies legacies have helped us care for
Without the kindness of people who remember Cats Protection in their Will, we would not be the charity we are today. These special gifts fund more than half of everything we do and help keep all the cats and kittens in our care purring.
Over the last year our branches and centres have received some wonderful bequests that have made a real tangible difference to the lives of the cats and kittens we help and care for.
Belfast Adoption Centre received a gift in November 2021 and Deputy Centre Manager Andrew said: "The legacy gift was really appreciated, and we used it for the everyday running of the centre, providing cats with shelter, food and essential veterinary care."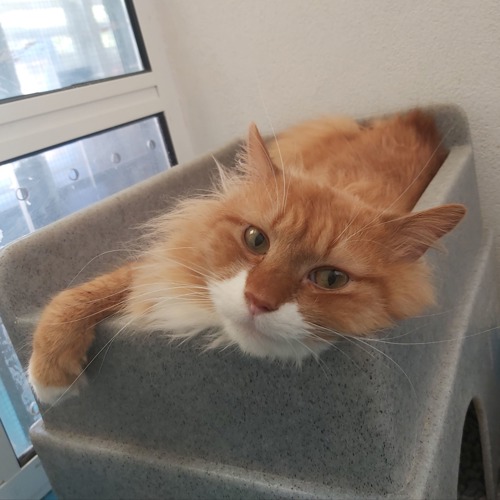 Barnabas
A few cats that would have benefitted from the funds were two-year-old Barnabas and 11-year-old Poppet. "Barnabas came into our care after his owner sadly passed away," said Andrew.
"After a veterinary examination he was found to have feline asthma which he takes an inhaler for twice a day. He is a big softie and tolerates his inhalers incredibly well, he also loves a cuddle with our cat care assistants.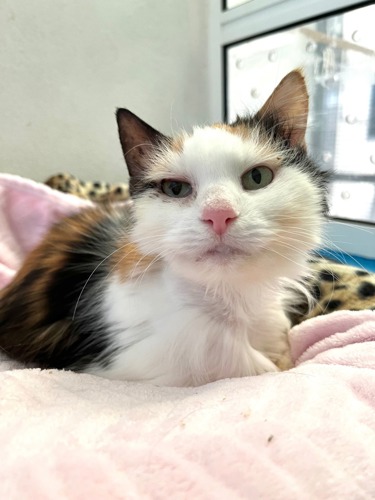 Poppet
"Poppet was sadly abandoned by her owners and left on the streets to fend for herself.
"When she first came into our care Poppet was extremely emaciated and had painful chronic tumours in one of her ear canals. She underwent surgery and is healing well. She is enjoying regular meals and lots of TLC and we hope she finds a loving new home soon."
Gifts in Wills can also be used to buy new equipment that helps so many of the cats that come into our care. East Surrey Branch and Mitcham Homing Centre received a legacy gift in August 2021 that enabled them to purchase an electric van that has come in very useful for transporting cats to and from vet appointments and to their new homes.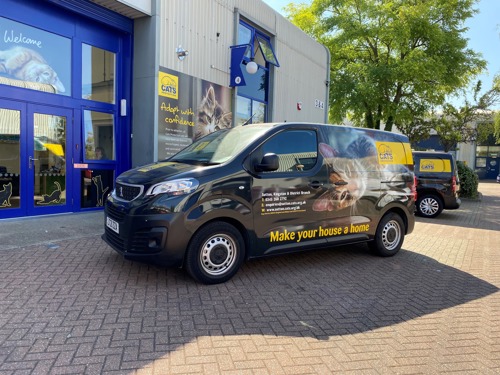 The Cats Protection electric van
One cat lover who has kindly remembered Cats Protection in her Will is Nicky Jeffrey.
"I adopted Precious and Whiskas four years ago," said Nicky. "They are mother and daughter and are now aged 18 and 14 respectively. Their previous four years had been difficult ones with a previous owner.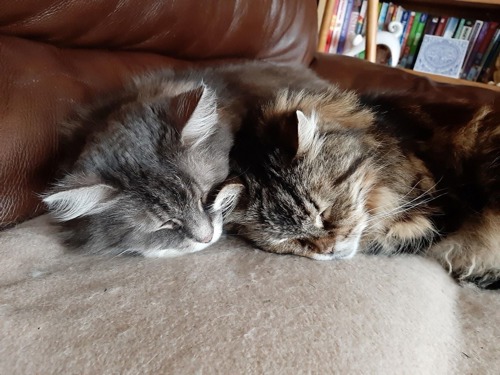 Precious and Whiskas
"They give me so much pleasure, especially during the COVID-19 lockdowns. I love their very different personalities and how they interact with each other. I learn so much from watching them. Washing each other and snuggling up together on their rug. Precious loves her cuddles and Whiskas her chin and cheeks tickled. 
 
"Whiskas is laid back and confident, but Precious was terrified at first and hid behind the washing machine coming out only for eating and toileting. Gradually after several months of letting her explore her new territory in her own time she slowly accepted being touched, then stroked and finally cuddled in my arms. She loves her cuddles now. 
 
"It is so infinitely rewarding seeing a cat blossom and regain her trust and confidence with lots of TLC. I love them both very much and have always had a love of cats and wanted to leave something in my Will".
If you would like to find out more about leaving a gift to Cats Protection, please visit: www.cats.org.uk/giftsinwills You can also email giftinwills@cats.org.uk or call us on 01825 741 271.