Recipe: Festive gingerbread cat biscuits.
Christmas-time is the purrfect opportunity to dust off your mixing bowls and wooden spoons and get baking.
Whether making tasty treats for yourself or yummy gifts for others, it's easy to make some truly tempting creations with minimal fuss. Plus, you'll fill your home with delicious smells of warming winter spices to really get you in the festive mood.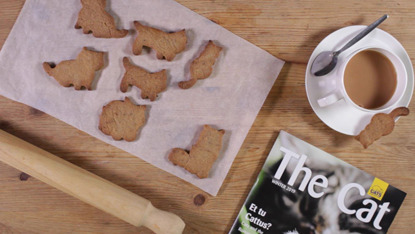 There are lots of ways you can incorporate your love of cats into your festive baking, whether you decorate your Christmas cake with fondant felines, or add some paw print-shaped pastry to the top of your mince pies.
You can also have a go at creating some gingerbread cat cookies, which go perfect with a cup of tea or hot chocolate. And even better, they're vegan, so your vegan friends can enjoy them too!
Ingredients:
1 tbsp chia seeds
400g plain flour, plus extra for dusting
200g coconut oil
2 tbsp ground ginger
1 tsp ground cinnamon
200g dark muscovado sugar
50g maple syrup
Instructions:
Preheat your oven to 180°C/160°C fan/gas 6. 
Mix the chia seeds with 3tbsp of water. Set aside for 5-10 minutes until the mixture becomes gloopy. 
Put the plain flour and coconut oil in a bowl and use your hands to mix until combined. 
With a wooden spoon, stir in the ginger and cinnamon. 
In a separate bowl, mix the sugar, maple syrup and chai seeds with 2tbsp of water. 
Combine the sugar mixture with the flour mixture and knead together until they form a dough. 
Place the dough on a lightly floured surface and roll it out with a rolling pin.  
Using some cat-shaped cookie cutters, cut out your cookies from the dough. If you don't have cookie cutters, you can draw some cat-shaped templates onto paper and cut around them using a knife. 
Place your cookies onto a baking tray lined with baking parchment and bake them in the oven for 10-12 minutes or until the edges start to darken. 
Leave the cookies to cool for a few minutes on the tray, then transfer them to a wire rack to cool some more. 
Watch our video below to see how it's done!
To find more inspiration for cat-themed bakes, take a look at our YouTube channel.