The launch of our new search function to find cat volunteering roles near you.
Find an Opportunity is our brand new volunteering website search. The search function allows you to find a variety of different volunteering vacancies in your local area.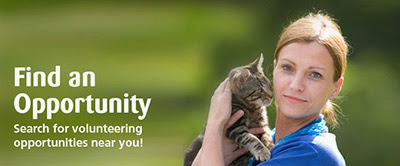 There's so much to gain by giving your time, energy, skills and enthusiasm to volunteering for Cats Protection. By joining the team you can make a real difference to the lives of cats, kittens and people in your community and across the UK and do something we think is really worthwhile.
Volunteering for a charity like Cats Protection is rewarding, a great chance to meet new people and learn new skills – and of course make a difference to a cause that really matters to you. Every year we help thousands of cats and kittens and much of this would not be possible without the dedication and hard work of over 9,000 volunteers across the UK.
If you would like to find out more about volunteering with Cats Protection and opportunities in your area, head over to the new volunteering pages on our website.
The search function allows you to filter vacancies by role type – so whether you fancy volunteering as a cat care assistant, fundraiser, publicity officer, social media manager or shop assistant, there are plenty of different opportunities available.
You can also meet some of our volunteers and read about the things they do at https://www.cats.org.uk/support-us/get-involved-volunteering.