This Volunteers' Week, find out what it's like to foster cats and kittens for Cats Protection.
If you're considering volunteering for Cats Protection, you might be thinking about a role that allows you to get up close and personal with the fantastic felines in our care.
While the cats are waiting for their forever homes, they are cared for in one of the many Cats Protection centres around the country or looked after by one of our volunteer fosterers.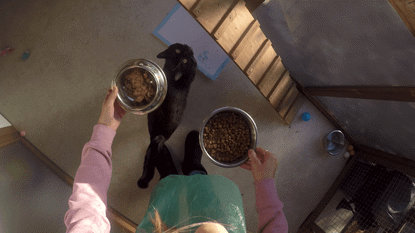 Fostering is just one great way you can help cats in your community. As a fosterer, you'll take cats into your home and temporarily provide them with care until they find a home. Many fosterers house their foster cats in a cat pen in their garden, while others prefer to provide a spare room.
Fostering isn't just great for the cats too – it offers cat-lovers an opportunity to help cats without the ongoing responsibility that comes with owning a pet. As some volunteers can't commit to owning a cat permanently, fostering gives them a chance to do something practical to help felines in need.
To find out what a day in the life of a fostering volunteer is like, watch our video below:
To find out more about volunteering with Cats Protection or to apply for one of our many volunteering roles, visit https://www.cats.org.uk/support-us/get-involved-volunteering.