Our small but mighty Deeside Branch and their tireless commitment to cats.
At Cats Protection, we couldn't do the excellent work we do for cats without the help of our dedicated volunteers. There are now over 11,000 hard-working individuals across the organisation, giving their time and expertise to help cats in our care. In celebration of Volunteer Recognition Day, we're sharing one of the life-affirming stories from one of Cats Protection's branches.
Cats Protection's Deeside Branch is one of the smallest branches in the charity, although that hasn't stopped them from doing great things. Established in 2008, the branch has just 12 volunteers that work tirelessly in their spare time to help cats – from rehoming them and neutering initiatives to raising funds and organising events.
Deeside Branch's work is made more difficult by covering one of the largest areas in the UK – from Banchory to Braemar. While the team of volunteers have had their usual challenges to overcome, nothing could prepare them for when Storm Frank hit the local area.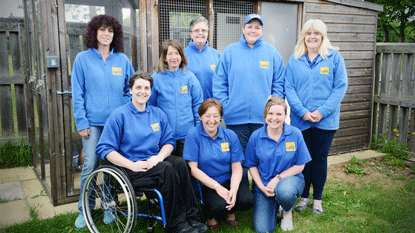 Weathering the storm
You might remember in December 2015, when Storm Frank released its ferocity over Scotland. For the small village of Ballater, Aberdeenshire, it became a time they wouldn't forget. The rain started and wouldn't stop. Warm temperatures melted snow on the hills, which rushed down to the River Dee and caused widespread flooding.
Usually a place of peace, Ballater became disrupted as the water swamped houses, shops and chalets. Gale-force winds cut power to the area, leaving residents feeling helpless. In the chaos, some were forced to evacuate their streets quickly and many had to escape without their belongings. For the cat-owning residents of the area, they were also distressed to find that their beloved pets had gone missing.
Community spirit
Thankfully, the volunteers of Deeside Branch were on hand to help. Despite being a small branch, they pulled together to help the local community, searching through the deluge for much-loved moggies. Many of the cats had become anxious due to the chaos of the storm, making it no easy feat. The team trapped them safely, reuniting them with their owners at a local relief centre.
The branch also led a successful social media campaign, leading to much-needed cat food being delivered to the besieged village a few days later.
A star team
As a result of their heroism, the volunteers were honoured at the 2017 National Cat Awards, after being nominated as one of the three finalists for the Star Team Award category. The Star Team Award celebrates the incredible work carried out across the UK by our volunteers.
Teams across Cats Protection were put forward for doing something impressive to create a positive result for cat welfare. Volunteers and staff voted for their favourite and Deeside Branch were declared winners! The award was presented by the then-Chief Executive Peter Hepburn, with the volunteers enthusiastically accepting.
Volunteer for Cats Protection
Deeside Branch's story is just one of the amazing examples of what our volunteers do to create change and make an impact on cats' lives. If you'd like to make a difference as well as gain extra skills and experience, volunteer with Cats Protection.
Visit https://www.cats.org.uk/support-us/get-involved-volunteering to find out more.