Newbury Adoption Centre needs funds to pay for Nina, Freda and Squiggles' vital surgery, to help them get back on their paws and find new homes
Cats Protection's Newbury Adoption Centre is currently caring for three cats for whom life-saving surgery is the only option to treat their hyperthyroidism.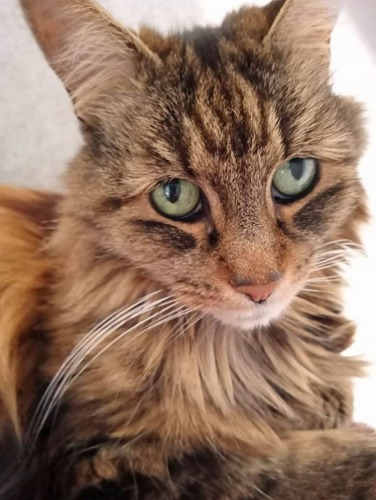 Mature moggy Freda needs a life-saving operation
The cats are the latest in a run of six with the disease to arrive at the centre from different households. The tabby trio all arrived at the centre very underweight and in a poor condition, having been suffering from hyperthyroidism for a significant time.
 
Thirteen-year-olds Nina and Freda as well as 11-year-old Squiggles have all needed to stay at the centre for a number of weeks to prepare them for surgery as the procedure to remove one or both thyroid glands cannot be performed until their levels of the hormone thyroxine are low enough for the operation to be conducted safely.
Nina needs lots more vet care before she can find a new home 

Hyperthyroidism affects cats when their thyroid glands become overactive, causing them to produce too much thyroxine which speeds up their metabolism. It is most commonly seen in cats over the age of 10 who experience a variety of debilitating or distressing symptoms including increased appetite and thirst, weight loss, hyperactivity, restlessness, increased vocalisation, vomiting, diarrhoea, poor coat condition and fast heart rate.
 
If left untreated, the condition can affect the vital organs and will eventually be fatal. There are a number of different treatments available, with surgery offering a permanent cure which allows cats in care to be matched with loving homes where they can lead long, healthy lives.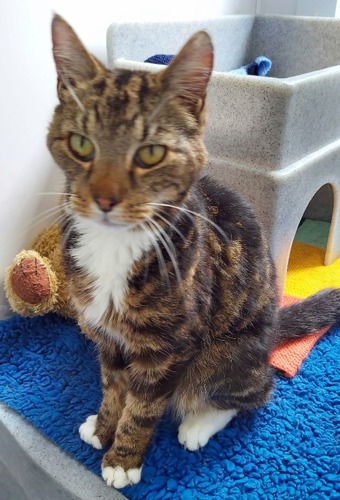 Squiggles' expensive surgery will transform his life 
Newbury Adoption Centre's Deputy Manager, Thea Eld, says: "It's not unusual for us to have cats in care with thyroid problems but to have six in rapid succession with three still needing surgery is unprecedented. Understandably our vet bills have been extremely high as a result.
 
"Not only do all three need all the usual care we give to cats before they are rehomed such as full vet checks, parasite treatments, vaccinations and neutering if needed but they, like the three before them, have all needed courses of thyroxine before the expensive surgery.
 
"Two of the six cats, Socks and JD, also needed extensive dental work costing over £1,000 each. Squiggles has just returned to us from four weeks of vet care and Nina now needs a toe removing and sending for biopsy as well as a dental procedure of her own so sadly she is also going to need a real run of vet visits before she can be found a new home.
 
"We've therefore set our fundraising target at £3,500 which will really help us cover most of the veterinary work. If we're lucky enough to raise more than the total we'll use it for the remaining cost of the cats' care or for others here at the centre."   
 
To donate towards Nina, Freda and Squiggles' care visit the adoption centre's JustGiving page. 
 
For more information about how you can help the cats in our care, discover the many different ways you can support us.