The Cat Guardians scheme gave one-eyed Nelson a second chance at finding a loving new owner
Nelson came into the care of Cats Protection's Tyneside Adoption Centre when his owner sadly passed away.
The eight-year-old arrived with three other Maine Coon cats he'd been living with, as they were all signed up to the Cat Guardians scheme. This free service promises to find loving new homes for cats after their owner passes away, giving them peace of mind that their beloved pets will be cared for.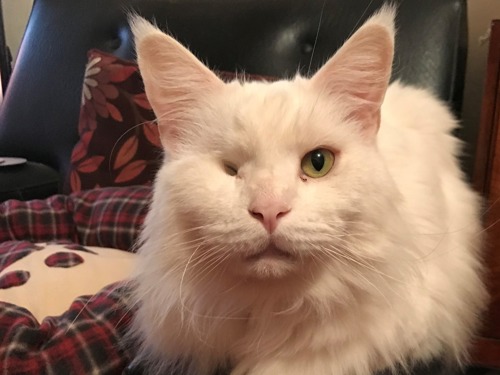 Nelson had clearly been well loved but had an ongoing eye issue that was not getting better with treatment. The vet decided that the best thing for him was to remove the eye.
"He soon recovered and quickly got used to life with only one eye," said Centre Manager Emzi Frater.
"Throughout his treatment he never lost his loving, gentle temperament with the team here in the adoption centre.
"He stole the heart of one volunteer in particular, Barbara, who has now adopted Nelson and taken him into her home.
"Barbara is a very kind, compassionate lady who supports us here at the centre on a weekly basis. She often pops in to help if we are having a busy day on site and is happy to help in several volunteer roles; from socialisation and desensitisation to cat care assistant duties including general care, feeding and cleaning.
"Since Barbara first met Nelson, she couldn't get him out of her mind, especially his personality – he has such a loving, friendly temperament despite how uncomfortable he must have been with his eye.
"When she went home one night she could not forget about him and she felt that he really wanted to come home with her – they had built up a really nice relationship when spending time together at the adoption centre."
To find out more about our Cat Guardians scheme, visit www.cats.org.uk/catguardians