Quiz: Do you an expert on cold weather cat care?
With winter well and truly underway, you might be concerned about how you can keep your cat safe at this time of year. Plummeting temperatures, darker nights and icy weather can all present a risk to cats.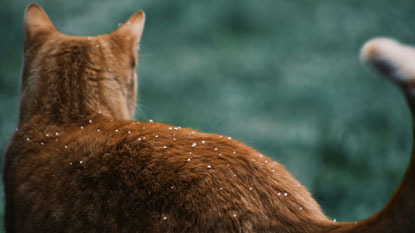 To find out if you know how to keep your cat safe and happy during the colder months, take our quiz. Focusing on everything from calming your cat during fireworks season to keeping them warm during colder spells, you can find out whether you're a cat expert.
Don't worry if you don't get full marks – you'll pick up some great top tips along the way!
Our top 10 tips for keeping your cat safe in winter
During cold weather, make sure your cat comes inside at night. Provide them with warm, comfortable and safe places to sleep.
Make sure your cat is microchipped in case they stray. That way, they can easily be traced back to your address.
Provide a litter tray somewhere private so that your cat doesn't have to head out into the cold to toilet.
During fireworks season, keep your cat in after dark and make sure that your cat flap, windows and doors are closed so that your cat doesn't panic and escape.
Screen off open fireplaces and supervise your cat if you have lit a fire.
Cats that are outdoors may crawl into a warm car engine to get warm – check your car before you start up your engine.
Avoid using anti-freeze to clear your car windscreen of ice. De-icers and screen washes use Ethylene glycol, a chemical that can prove deadly to cats if they ingest it.
As the evenings get darker, reduced visibility makes traffic conditions riskier for outdoor cats. If you're worried, keep your cat inside.
Regularly check sheds, outhouses and garages to ensure your cat isn't locked inside.
Make sure your cat has plenty of fresh water indoors, in case any outside sources freeze.
For more advice on keeping your cat safe during the winter, visit https://www.cats.org.uk/help-and-advice/home-and-environment/cats-and-cold-weather