Ex-Army major and current Cats Protection employee Peter Shergold has won a British Ex-Forces in Business Award
After serving in the British Army for 14 years, Peter Shergold took on the role of Head of Field Operations at Cats Protection in November 2021.
Prior to this, he worked at St John's Ambulance, where he oversaw the charity's clinical events and led the recruitment and training of 30,500 vaccinator volunteers to support the NHS during the recent pandemic.
"I have always been in jobs where I help people," said Peter. "Selfless commitment and helping people is what makes me get up in the morning. I love making a difference. In no other sector can you make such positive change."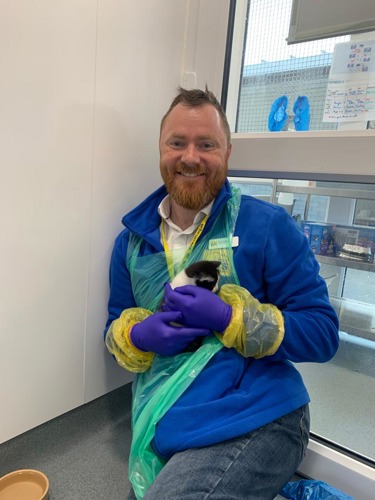 At Cats Protection, Peter oversees the operation of our network of 210 volunteer-run branches and 34 centres. "I manage people, change and things," said Peter. "The people are the most important. I am responsible for around 550 employees and 8,000 volunteers. I do this by getting out and having lots of cups of tea. I find there is very little you can't do by hard work and talking to people."
As an animal lover, Peter says the most rewarding part of his job is meeting happy owners and seeing happy cats find new homes. The most challenging bit is change management and managing expectations. "We have a lot of people and not everyone can be involved in every decision," explains Peter. "It is hard to communicate all the change and why. But I truly believe we are getting better."
Peter's achievements have seen him win the Rising Star category of the British Ex-Forces in Business Awards at a ceremony at The Grosvenor Hotel, London, on 8 September.
"I am very proud to be nominated for this award," said Peter. "I picked up a lot of skills and experience in the Army that hopefully will come in very useful as Cats Protection embarks on its own mission to help more cats over the next 10 years through the expansion of its rehoming, neutering and information work.
"The army teaches you to serve to lead. This means you serve your people by leading them. They are the most important thing and helping them means they will achieve more. It also taught me patience and that no matter how hard things are, I've been through worse... so let's have a cup of tea and talk it through.
"These awards celebrate the qualities that army veterans can bring to businesses and charities and I hope they encourage more employers to offer more assistance and retraining to ex-service personnel who are looking for a career change."
Peter's advice for ex-service personnel thinking of a career in business or charity is to go for it, and he is happy to chat to them and offer any help he can. "In no other sector can you make such a positive impact and have so much responsibility. I loved the army but I was away a lot and missed my kids. I love Cats Protection easily just as much. The organisation makes a huge difference and I love working with volunteers."
Find more information about the British Ex-Forces in Business Awards and the latest career opportunities at Cats Protection.