Elderly cats Captain and Pugwash are looking for understanding owners.
Cats Protection's Birmingham Adoption Centre is appealing to local cat lovers to take in two mature moggies in their care.
Captain and his best buddy Pugwash have been overlooked for adoption time and again because of their age and medical needs, but all they want is a loving home together.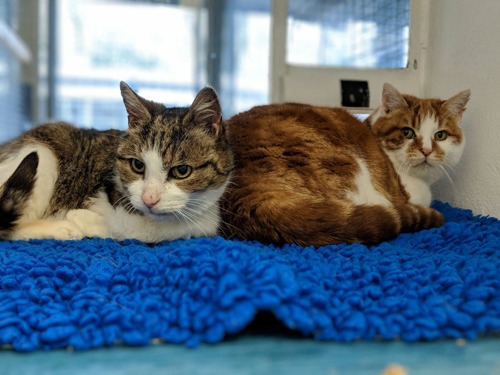 Can you give Captain (left) and his best buddy Pugwash (right) a home?
Captain is around 15 years old and had to have one of his front legs amputated when he was younger. Having to take all of his weight on his remaining legs has left him with arthritis, but he happily gobbles up his daily medication with no fuss when it's hidden in his food.
Pugwash is around 10 years old and has taken it upon himself to look after his mate Captain. These two older kitties are very close and enjoy washing each other, eating together and curling up for a snooze together.
Paula Beswick, Deputy Manager of Cats Protection's Birmingham Adoption Centre, says: "In all the years that I have been working at the centre I have never seen two cats that are so close. Wherever Captain is then Pugwash is by his side. Both are extremely affectionate and just want a warm, loving home for their remaining years."
If you would like to offer Captain and Pugwash a home, contact the Birmingham Adoption Centre on 01564 822 020 or email birmingham@cats.org.uk