Stray Toby is offered a permanent home with his kind carers.
When Jagoda and Michael from Norfolk found a poor, flea-infested cat roaming the streets, they were immediately concerned that he had lost his home.
They called up Cats Protection's Downham Market Adoption Centre to see if anyone had informed them of a lost cat in the area, but when there was no match with any of the local missing moggies the branch listed him on the Lost & Found section of their website.
Next Jagoda and Michael took the cat to the local vets to get him scanned for a microchipped, and were relieved to find that he did indeed have a chip! However, their excitement turned to disappointment when the contact details listed turned out to be a dead end.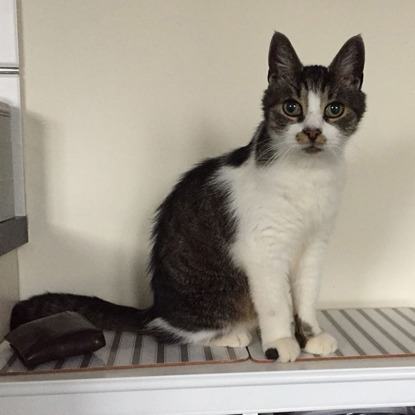 The vets administered flea and worming treatments to help with the poor cat's infestation and then took some photos of him to post on their Facebook page, in case there were still owners out there to claim him.
As he was unable to stay at the vets, Jagoda and Michael offered to give the cat a temporary home while the search for his owners continued. They prepared a room in their house that he could have to himself, away from their own pet cat, with all of the resources he would need.
They also continued to put up posters around the local area, but after four weeks had passed, there was still no sign of any owners coming forward.
Having become quite attached to their temporary house guest, Jagoda and Michael made the decision to make him a permanent part of the family. They named him Toby and took him back to the vets to get him checked over and vaccinated, then registered their own details on his microchip.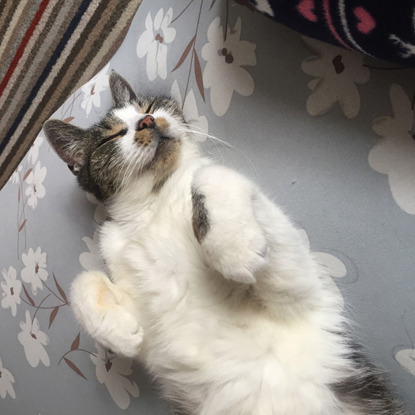 Next came the tricky task of introducing Toby to their other cat, Fluffy. Thankfully, Cats Protection was able to help, as by following the steps on our helpful video guide, Jagoda and Michael were able to make sure the introduction went smoothly. They said: "They now get on very well together. They have their moments, but seem to be enjoying each other's company most of the time and even share their food!
"We just wanted to say thank you to Cats Protection's Downham Market Adoption Centre for listing him on your website and for the advice you've given us on how to help him. We got really attached to him, he's such a friendly and grateful fella."
If you find a stray cat, follow our advice at https://www.cats.org.uk/help-and-advice/lost-found-and-feral-cats/found-a-cat to give them the best chance of a happy reunion or finding a loving new home.