Cats have won the internet – but are they enough to draw audiences to the cinema too?
Hands up who's taken time out of their working day to sneak a look at a kitten on YouTube? Don't worry, you're not alone.
In fact, cats are by far the most popular YouTube category, drawing over 26 billion pairs of eyes to television, computer, tablet and smartphone screens since the video sharing website launched in 2005 – and that hasn't escaped the attention of those in charge of the UK's bigger screens.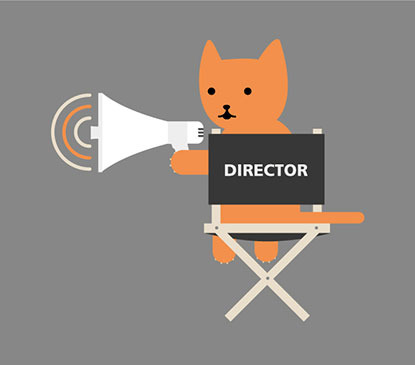 Illustration by Cats Protection (CP library)
In December, delegates at the annual This Way Up film exhibition innovation conference discussed the popularity of user-generated cat videos and how cinemas should respond. According to the BBC, some chains believe transferring cat videos to the silver screen could convert into box office profits.
But is our fondness for viewing cats on the small screen enough to get us queuing at our local multiplex and parting with our hard-earned cash?
Throughout cinematic history it appears to have been dogs, not cats, that have grabbed all the starring roles in films from Lassie to Rin Tin Tin. However, some domestic felines have managed to rise above their tendency to shun direction to make a mark in the movies.
Here are five eclectic examples of small cats rocking the big screen:


The Sick Kitten (1903)
Released shortly after the birth of cinema, The Sick Kitten represents one of the earliest on-screen appearances of a domestic cat. The short sees a supposedly poorly kitten nursed back to health by a pair of wonderfully attired Edwardian children (but please don't spoon feed your own cat, times have changed!). Lasting less than a minute, some would argue that this cute, uncomplicated feline-centric film is over a century ahead of its time!
James Bond franchise (1963 onwards)
First spied in From Russia With Love, Ernst Stavro Blofeld's white Chinchilla Persian has now appeared in eight Bond films. Played by a variety of actors, the Spectre supervillain's nameless lap cat has been able to keep his cool throughout his master's battles with the British secret service (with the notable exception of the volcano lair-storming scene in You Only Live Twice) to become one of the most adored – and imitated – stars of the franchise.
Alien (1979)
The 'ship's cat' job description on the USCSS Nostromo was probably quite simple, with the words 'catch' and 'rats' playing a prominent role. Little did Jonesy realise that, by the end of Ridley Scott's sci-fi horror, he would have risked many of his nine lives to make it back to Earth with Ripley, the film's star. Played by multiple actors, the ginger tom served as a key narrative device, operating as a sounding board for Ripley, inadvertently leading crew members to their doom and providing many popcorn-spilling moments.
Meet the Parents (2000)
Earning the approval of your would-be father-in-law is daunting enough, but the task becomes almost impossible when you accidentally misplace his much-loved pet (especially when he's an overprotective, ex-CIA operative bearing an uncanny resemblance to Robert De Niro). Proving once-and-for-all that cats can span the genres, feline actors Bailey and Misha steal the show in Meet the Parents with their side-splitting portrayal of Mr. Jinx, the toilet-using Himalayan Persian.
The Hunger Games franchise (2012 onwards)
Hunger Games hero Katniss Everdeen's contempt for her sister's cat was nothing compared to the feelings of fans towards those responsible for casting a black-and-white tom in the first film. Buttercup, you see, was supposed to be "muddy-yellow". The backlash was such that the moggy had to be recast for the sequels. Fully restored to his ginger splendour, Buttercup slowly weaves his way into Katniss' affections as he plays an increasingly central role in the story – arguably ending up as the greatest Hunger Games survivor of them all.
So there you have it. While it's fair to say the humble domestic cat is yet to take Hollywood by storm, these examples show that feline thespians have played some standout roles in the history of cinema. But will they be able to take their small screen domination all the way to Hollywood?