A family in North Birmingham was recently surprised to find a cat and her newly born kittens under decking in their garden.
Julie and Stephen from the Yardley Wood area of Birmingham found the young tortie and her kittens after their pet dog kept whining and crying at a particular spot in their garden.
The couple initially thought they had mice but eventually their son heard the little kittens crying and then mum started to pop her head out. It seems that the cat may have been abandoned by people in the neighbourhood, so heavily pregnant the cat sought a quiet and dry place to give birth, and found safety under the decking.
Julie and Stephen set up a trap with an old dog crate on the decking with a piece of string attached to the door with food inside. Eventually the queen and the two kittens, ventured inside the crate and Stephen pulled the string to close the door. The crate of cat and kittens was put into a spare, quiet room but with two dogs it was not an ideal situation.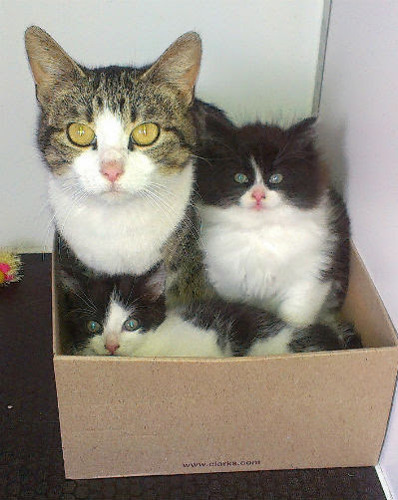 When space became available, Jane, a Fosterer from South Birmingham Cats Protection, collected the mum and kittens and placed them in a foster pen at her home. She named the queen Fay and her two kittens are Wilbur and Wilfred.
Jane says "As with many cats and kittens that come into our care because of an emergency situation, it has taken them a while to settle and to build up their trust in humans again. Plenty of time and patience is needed along with lots of toys!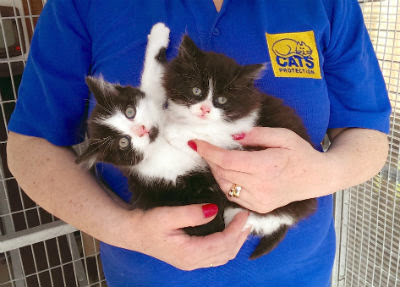 "All three have been rehomed together by a lovely couple in Olton, who recently lost their two elderly cats and have an empty home now without them. I am sure that these three will keep them very busy."
Cats Protection recommends that cats are neutered at four months of age or younger, before they start puberty, to prevent unplanned pregnancies. Find out more about pregnant cats, the birth and care of young kittens here: Pregnancy and kitten care.