A new home for tabby cat Elsa – thanks to our Cat Guardians service.
Elsa was four years old when her owner signed up to Cats Protection's Cat Guardians service in September 2015. The free service promises that in the event of an owner's death, we will find their cat a loving new home, no matter how long it takes.
Unfortunately, just a few weeks after making arrangements for Elsa, her owner passed away. Elsa was taken in by our North London Adoption Centre and cared for by volunteers and staff. The information her owner had provided on her Cat Guardians form, such as the type of food Elsa likes to eat, helped them care for her in the best possible way until a more permanent home could be found for her.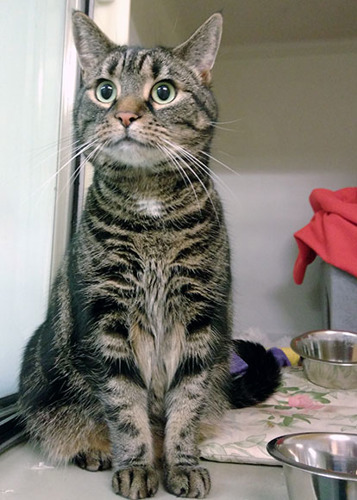 Elsa in the care of our Mitcham Homing Centre
She was a little nervous in the centre at first, because she'd never ventured outside or even met another cat. But with a little time and patience, Elsa finally started to trust her carers and was moved to our Mitcham Homing Centre in the hope that she would find a new home.
Just one week later, Elsa was adopted by a new family.
Elsa's new owner says: "Elsa has been doing very well! From day one she has been very happy to be here with us, a little bit timid in the beginning, but not anymore.
"She is active and loves playing with us, she eats well and is very affectionate with us. She loves waking us in the morning for food and attention and, like the cat she is, she wants to be left alone every now and then.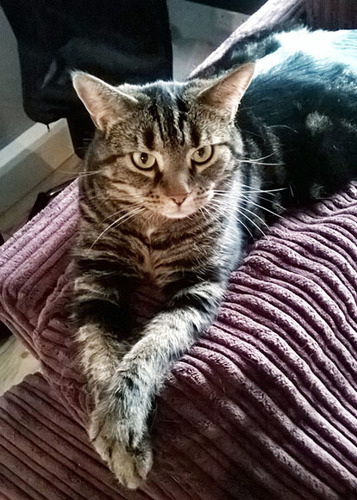 Elsa relaxing in her new home
"We are very happy with her and I believe she is happy with us – her frequent purring is my main hint! Thank you very much for helping us bring her into our lives."
Find out more about our Cat Guardians service and how to register at https://www.cats.org.uk/what-we-do/catguardians