The first eight weeks of a kitten's life are incredibly important, but sadly many are cruelly mis-sold too soon
Poor Cookie was just four weeks old when he was taken from his mother and sold to an unsuspecting buyer.
He had been advertised on Gumtree as older than eight weeks, old enough to be without his mum, but when his new owner got him home, his health quickly declined.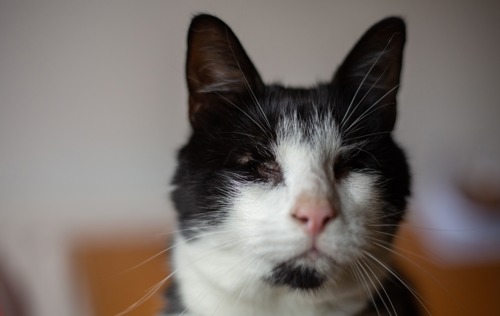 As soon as they realised something wasn't right, they rushed Cookie to the vet for urgent treatment, where they made the shocking discovery of his actual age.
It was clear that Cookie would need lots of specialist care, and so his owner decided that his best chance at survival was with the dedicated team at our Glasgow Adoption Centre.
Because he has been separated from his mum so soon, Cookie had not benefitted from the vital nutrients and antibodies in her milk, meaning he was severely undernourished and his health deteriorated fast.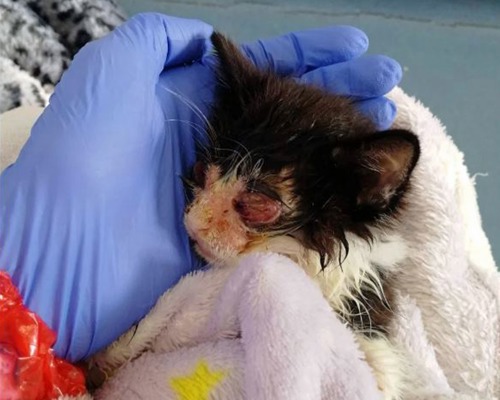 Cookie had sore eyes and matted fur 
His swollen eyes were operated on, but despite the vets' best efforts, sadly could not be saved. Left blind and needing round-the-clock care, Cookie was lovingly nursed back to health by the Glasgow team, many of whom are volunteers.
They taught him many of the skills that should have been passed on by his mother, such as grooming, toileting and playing, until he was finally old enough to find a new home.
When he'd first arrived at the vets, Cookie had caught the eye of Dawn Chambers, a manager for Martins Veterinary Centre.
"Cookie really was in the most dreadful state, but all I saw was this adorable bundle of fluff who just wanted to play," recalls Dawn.
"I fell in love with him instantly and my 15-year-old daughter Robyn and I decided we had to adopt him."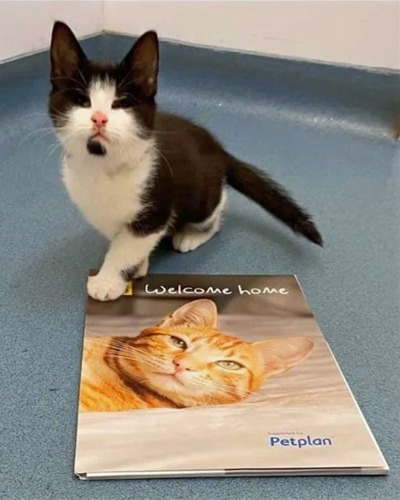 Cookie was finally ready to find a home
However, it turned out that Cookie had already been reserved. Heartbroken, Dawn broke the news to Robyn that they'd missed out. However, around a fortnight later, fate stepped in.
"I was visiting Cats Protection with work when I just happened to notice Cookie was back," said Dawn. "They explained that he hadn't got on with the family who'd adopted him and had been returned. Clearly he was meant to be ours from the start, so I made sure I took him home straight away!"
Cookie was introduced to Dawn's 10-year-old dog and two gerbils and he settled in immediately.
"It was third owner lucky for Cookie but we are grateful every day that he found his way to us. He really is the most amazing cat. Despite being blind, he is a professional level fly catcher – he hears them buzzing and the next thing you know, he's happily crunching down on them!
"He is also the most amazing climber – he shoots up a six-foot cat tree at high speed. He's a right little daredevil!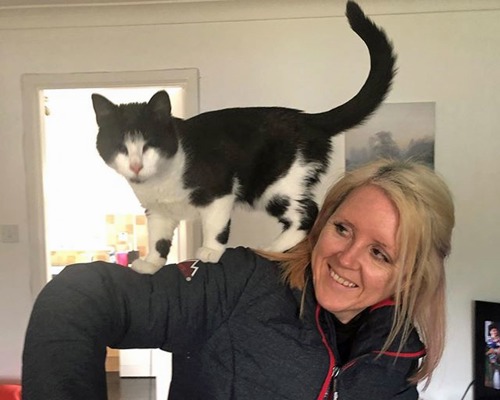 Cookie has settled in with Dawn's family. Credit: R Chambers
"Robyn and Cookie have become inseparable and she runs his Instagram account – he has become a bit of a local celebrity which is well deserved after his appalling start."
Cookie is lucky to have had a new start in life, but sadly his story is not a one-off. With the COVID-19 pandemic leading many people to search for new pets online, unscrupulous sellers have taken advantage of the demand, often putting profit before cat welfare.
Unfortunately, many of the kittens mis-sold too young find themselves in the care of Cats Protection, and we couldn't be there for them without the generosity of our wonderful supporters.
To help us care for vulnerable kittens taken from their mothers too soon, please consider donating today.