Fancy a challenge this year? Sign up to do a skydive to raise money for unwanted cats!
The New Year marks a new start so many take it as an opportunity to resolve themselves. But rather than making a resolution you know you'll never stick to past January, why not try something challenging that will benefit you and help your favourite animal at the same time?
You could pledge to do a sponsored tandem skydive to raise funds for your local Cats Protection branch or adoption centre.
Feel the sensation of flying through the air in the adrenaline rush of a lifetime – you'll see stunning views of the earth from about two miles above ground. This will be one of the best experiences of your life.
Cat lover Katherine Sargeant did a tandem skydive for Cats Protection in 2015. Here is her story:
"In the summer I had a moment of madness and believed I was capable of a tandem skydive. The night before I had spotted a link from Facebook through to Cats Protection's fundraising challenges and a seed was planted in my mind: could I do something to help support the fantastic team at the Bracknell & Wokingham Districts Branch who had introduced us to Gracie last October? I made some enquiries, hesitated for around two hours and then bang – I couldn't help myself – the challenge was irresistible. I paid the deposit and somehow I was committed.
"I should point out that other than my teenage son and our CP cat, Gracie, I have one other passion in my life: running. If it took me a matter of hours to sign up to the jump, I had many more to consider the consequences of something going wrong and never running again. The thought of a life without my running friends, marathons and half marathons was a real concern. But if you're asking people to part with their hard-earned cash to support you, it has to be a true challenge and, being petrified of heights as well, this couldn't have been a truer one.
"What I had also initially failed to consider was that skydives don't always happen when they're planned. The scheduled date was too cloudy – it made it impossible to jump. It was rebooked for 8 October. It was a beautiful day and I realised this was it: no more hoping, wondering, fearing, postponing or talking about jumping.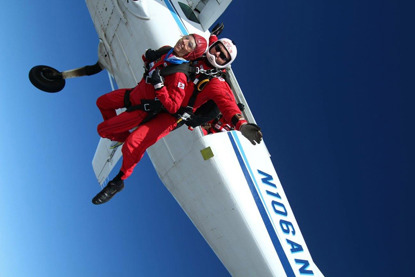 "I have to say, an amazing calm came over me as I drove to the airfield. As with my running, I knew that if I concentrated on the training and kept my composure that all would be fine and I would achieve one of the most brilliant dreams of my life. I arrived first, very early as I was determined that if anyone was jumping it was going to be me! And so it was: first plane-load up and first out of the hatch. And it is a hatch which is lifted at 13,000 feet (it takes around 10 minutes to fly that high) and my instructor, Nathan, who was clipped to me by four hooks shuffled me to the opening, dangled me out and then out we dropped into this amazing rush of wind, moisture and frantic noise, with blue sky above and grey cloud below.  It was the most awesome place to be – a bubble in which there was me, Nathan and Alex who was filming and taking photos. These guys are seriously amazing men!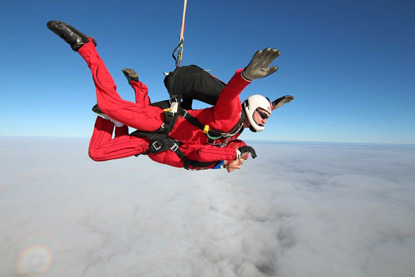 "The 45-second freefall was the bit that had freaked me out over-and-over in the many weeks of the summer. Forty-five seconds is a LONG time to be plummeting, I had thought. In the end it was, for me, probably the most fantastic bit – just because it was like we were in a little cocoon way up above the world.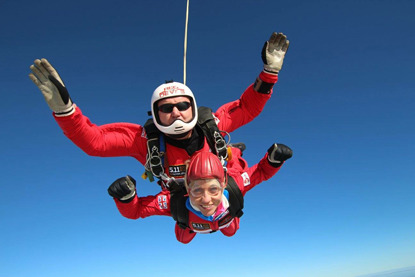 "Then WHOOSH, the parachute is opened and I'm drawn back upwards and I'm thinking 'no, I need to go down!' We're sailing over fields, with tiny roads and trees, looking at miniscule lorries and cars – and Nathan says 'look, there's the Isle of Wight'. I did take a moment to look at the scene beneath me and remember all the cats, thinking that trying to help them had brought me to this amazing place and moment in my life.
"Another weird bit was the approach back down to earth as you have no concept of the height: are we close or not? It's very deceptive. But I did it, I landed safely on my bottom, sliding along on the mud, laughing my head off while simultaneously thanking Nathan for the most fantastic experience, and delivering me back to earth without a bump.
"Seriously, I cannot recommend this experience enough.  If you would like to get out of your comfort zone and raise some money for the CP cats GO AND DO IT!"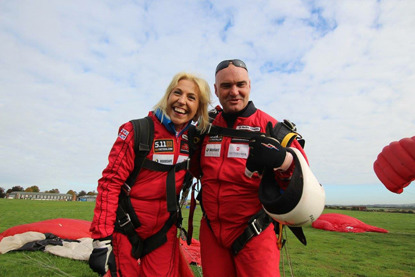 To sign up for a #CatChampions Cats Protection skydiving event please visit https://www.cats.org.uk/support-us/events/challenge-events/skydiving-and-wingwalking