Fundraising challenge events: free registration! 
In June 2018, 21 brave cat lovers took to the hills of Snowdonia National Park to complete an exhilarating 100mph zipwire challenge over a large blue quarry lake to help raise over £4,000 for cats and kittens.
Zipworld Velocity is the fastest zipwire in Europe and allows for four people to tandem zip together, it really is a spectacle to behold as people fly past you!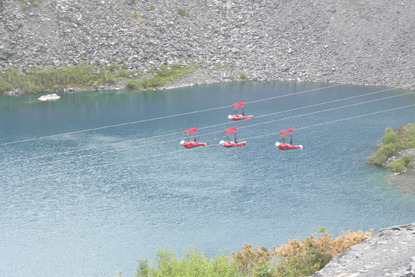 For those who are not natural adrenaline junkies there is a 'practise run' on a little zipper that you can do before being transported by the mountain trucks to the highest peak to be strapped in for the big zipper.
Rachel, Helen and Clayton all took part in aid of Cats Protection's Carmarthen Branch. Rachel said: "I am absolutely petrified of heights but when I saw this challenge I thought, what better way to try to overcome my fear and help the cats and kittens in Carmarthen. I challenged myself to do something that is outside my comfort zone and raise important funds for my local branch of Cats Protection which I am passionate about."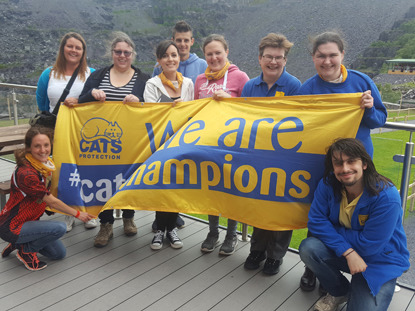 Cats Protection's Fundraising Events Manager Rebecca Worth supported the team every step of the way and even joined them to take on the challenge, raising money for her local branch. She said: "As we arrived at Zipworld the scale of the challenge we were taking on really hit home. The start of the 'big zipper' was so high you couldn't actually see it and the people looked likes specks. Luckily we were allowed to acclimatise with a 'little zipper' zipwire before a truck carried us high in to the sky for our descent. Knowing my sponsorship was going to help cats and kittens at my local branch meant there was no way I could back out. And, I am so glad I didn't! The moment I touched down after the zipwire I wanted to go straight back up, my stomach was in my throat but I LOVED it!"
Michelle Kidd was another member of the zipwire team, along with her partner and daughter, and said: "It was the most amazing experience from start to finish. From someone terrified of heights… 'close your eyes and think of the cats!'"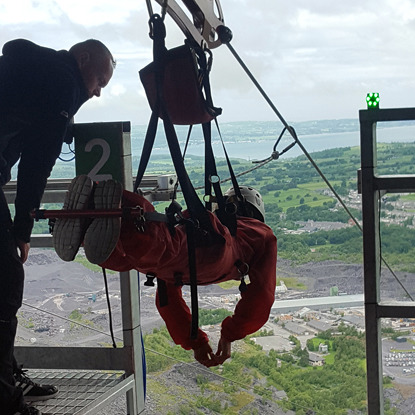 If you would like to experience the thrilling zipwire for yourself or take on another adrenaline-fuelled challenge for Cats Protection, you can register for free* with our amazing Black Friday/Cyber Monday offer. 
Whether you are heading off on a bike ride or want to run a half marathon, you will find a challenge event to suit you - and you'll be raising vital funds for cats too!
Visit www.cats.org.uk/blkfricybmon to take a look at our events for 2019 and sign up for a challenge to get your adrenaline pumping. 
*Free registration is only valid for registration forms completed between 9am Friday 23 November and 9am Wednesday 28 November only. As all our events help raise vital funds to support the work of Cats Protection a minimum sponsorship pledge for each event does apply. You will receive full support with your fundraising.