A Feline Funday to raise funds for the Tunbridge Wells, Crowborough & District Branch
Carol Gordon of our Tunbridge Wells, Crowborough & District Branch explains how, although fundraising events don't always go to plan, Cats Protection volunteers overcome the challenges to raise vital funds…
Cats Protection's Tunbridge Wells, Crowborough & District Branch recently held a Feline Funday at Uckfield's Civic Centre. Fortunately for the branch Kim Woodburn, who is a great supporter of Cats Protection, kindly offered to come along and support us on the day. Armed with this brilliant piece of news, we were able to book Uckfield FM to come along on the day and broadcast live by promising them an interview with Kim. But they went even further than that, dedicating their breakfast show on the morning before, to publicising the event!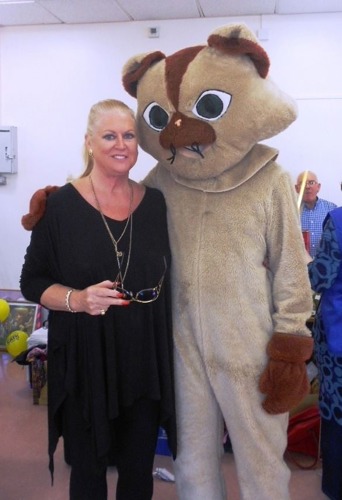 Kim Woodburn joins the fun
Unfortunately, there were a few hitches – they say these things come in threes and they did. Firstly, we were told that Kim had taken a nasty fall and wouldn't be able to come. We were desperately disappointed, but by the end of the day she had decided that she was feeling better and would be able to make it after all – what a trooper; we all breathed a sigh of relief!
We spent the previous evening loading up cars and labelling prizes for the chocolate tombola before sitting back with a cup of tea and then came the second blow; the husband of one of our organisers had been taken ill and she was about to take him to A&E. Thankfully he was allowed home again and she turned up in the morning after two hours' sleep!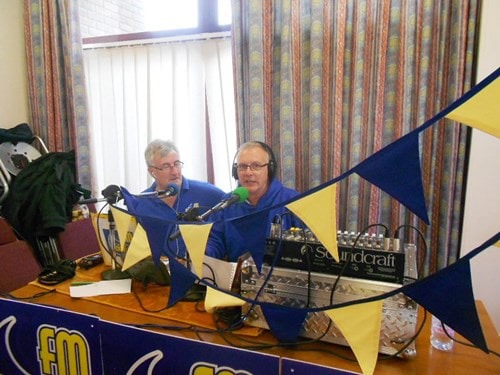 Uckfield FM provided live coverage of the event
So the big day arrived. Kim was wonderful, smiling and chatting with everyone. We gave away goody bags, iced cakes, sold plants, refreshments, books and bric-a-brac. Meanwhile, kids guessed the name of the bunny, had their faces painted, had a go at the chocolate tombola and placed their coppers onto Cooper the Copper Cat. Not to be outdone, two giant cats paraded up and down Uckfield High Street with collecting buckets.
Then came the third blow – somebody had collapsed in the High Street and the emergency services had effectively blocked off the town so our numbers dwindled, but we were still happy with the publicity that we had received and the £400 raised.