Make a knitted mouse for your cat at Christmas!
We all enjoy receiving thoughtful, lovingly-crafted gifts at Christmas time.
So with the big day fast approaching, how about making the moggy in your life a present they will enjoy – or donating it to one of the thousands of cats that will be spending the festive season in our care?
There are loads of handmade designs to choose from, and you don't have to be nifty with the knitting needles to create something that will be enjoyed by your furry friend.

You could make a Captain Cat-Battler toy for your mog
For those who do like to knit, toys and blankets are always high up on our list for cats' Christmas present l. One of their favourites is the catnip-powered 'Captain Cat-Battler' mouse toy, originally designed by Lauren O'Farrell (www.whodunnknit.com) for Battersea Dogs & Cats Home.
Our cats have been waging war against these little guys for years now and, while they inevitably emerge victorious from scuffling with their squeaky foes, they are always on the lookout for more woolly rodent challengers.
Click here to download the Captain Cat-Battler pattern.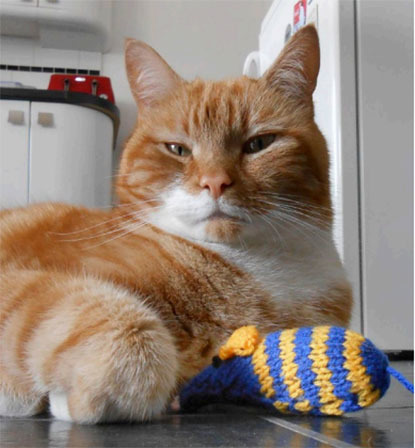 If you're not a knitter, there are a variety of elegant and fun designs that don't require special skills to construct. In fact, our Ferndown Homing Centre produces its very own Catnip Knots, which require absolutely no sewing or knitting.
To make your own catnip toy, at the price of just the catnip, you could fill an old clean unused sock. Just pop catnip inside the sock then tie it at the end and give to your cat to play away! You can refill with any catnip insert you like – organic or varying strengths of catnip, for example.
Whichever design you go for, you can be sure you will be making a cat very happy – and if you do decide to donate any of your creations to Cats Protection, we can promise you they will be welcomed with open paws!
Donate your knitted creations
To donate your crafty creations to us, all you need to do is send them to, or drop them off at, your nearest Cats Protection adoption centre (to find out where that is, simply head to the find us page on our website and type your full postcode into the box.
For more homemade toy ideas, read our previous blog posts: Boredom busters for your cat and Feeding enrichment puzzles for your cat.
Please note that if you are knitting a toy or blanket for a feline friend, it's best to avoid the use of stretchy yarns or small plastic items – such as those that can be used for mouse eyes – to reduce the risk of inadvertent injury/ingestion. Loose-weave blanket patterns involving the use of large needles are also best avoided. Any knitted toys should be avoided for cats known to be wool-chewers. Please supervise play with your cat and don't leave your cat unattended with toys which could be shredded and eaten or cause entanglement. Check toys regularly for signs of wear, replacing when appropriate.