The National Cat Awards celebrate remarkable moggies and the way they've enriched people's lives
After two years away, we were finally back at The Savoy hotel in London for the 2022 National Cat Awards on 4 August.
The event was a celebration of amazing cats with truly incredible tales of support and friendship and the room was positively purring with endless cat chat and plenty of tears shed at the videos of the finalists.
The cats themselves stayed at home, as they would much rather be snoozing in the peace and quiet, but their loving owners were there to accept their awards on their behalf.
This year saw the introduction of a new category, Cat Colleagues, a salute to those cats who make working from home a pleasure or have brought joy to the workplace. The award, which is sponsored by FELIWAY® Optimum, was voted for by the cat-loving public and the winner was announced by comedian Bob Mortimer via a video at the ceremony.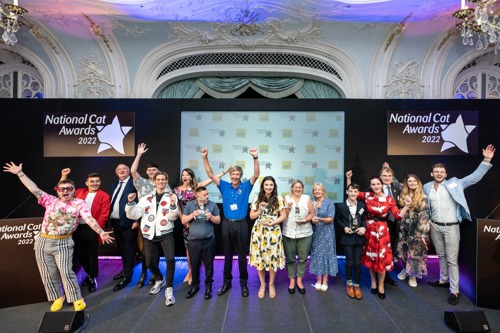 The winners and celebrity judges at the National Cat Awards 2022. Credit: Harry Richards.
The other categories were judged by more moggy-mad celebs including Dragons' Den star Deborah Meaden, pop stars Max & Harvey, and regular National Cat Awards attendees, David and Frankie Seaman.
The National Cat of the Year was chosen by our judging panel: actress Gaynor Faye (who could sadly not attend), BBC TV weather presenter Elizabeth Rizzini, TV and radio broadcaster Riyadh Khalaf, singer-songwriter and comedienne Ginny Lemon and England footballer, Ellen White (who also could not attend as she was having a much-needed rest after the team's brilliant UEFA Women's Euro win).
And the winner is...
National Cats of the Year and Outstanding Rescue Cats
Jasper and Willow from Chailey, West Sussex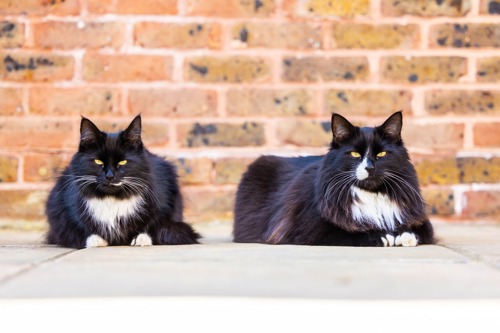 Jasper and Willow. Credit: PA.
Brother-and-sister duo Jasper and Willow are residents at St Peter and St James Hospice. The two cats spend their days visiting patients receiving end of life care, helping families and friends feel at ease, and bringing a ray of sunshine to staff on difficult days. Since arriving in 2018, the pair have brought comfort to countless people at the hospice. Front Of House Manager for St Peter and St James Hospice Jackie Manville explained: "Jasper and Willow have had a hugely positive effect on everyday life at the hospice and are much valued members of the team. They spend a lot of time with patients and their families and friends, bringing comfort to those at the end of life and to those who are grieving. A lot of time is spent sitting and watching and having our cats to stroke really helps, making the hospice more homely. Jasper in particular seems to intuitively know when patients are having a difficult day, or if they are in need of company. He'll hop onto the bed and just sit quietly, purring away. It's enough to raise a smile and helps people relax when they're feeling tense and worried. For the staff too, having Jasper and Willow around is wonderful. On a hard day, just walking around the corner and seeing them is enough to give you a lift. During the pandemic, their constant presence was a huge comfort to everyone in difficult times."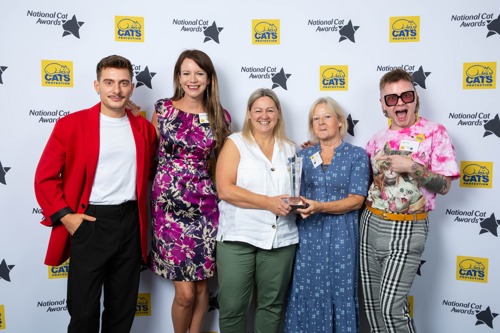 TV and radio presenter Riyadh Khalaf, BBC weather presenter Elizabeth Rizzini and drag superstar Ginny Lemon, presenting the National Cats of the Year 2022 trophy to Jackie Manville and Jo Crosta, from St Peter and St James Hospice. Credit: Teofil Rewers.
Furr-ever Friends
Chicken from Thatcham, Berkshire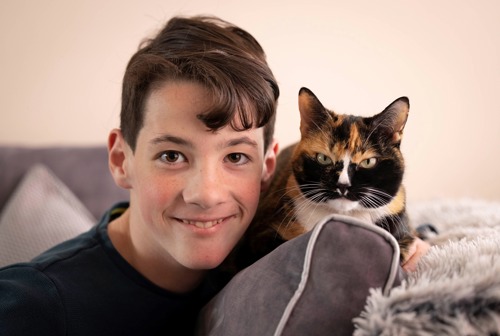 Elliott Abery and Chicken. Credit: PA
Chicken shares an incredible bond with Elliot, 11, who has autism and suffers with anxiety. When Elliot is facing stressful times, just talking about his faithful feline friend is enough to help bring calm. And when Elliot needs some peace and quiet but doesn't want to be on his own, Chicken is by his side for company and a soothing purr. Mum Jenny Abery explained: "Elliot and Chicken share a special bond which is unlike anything I've ever seen. They are normally together, whether it's cuddling under blankets or playing games, and their friendship is a huge source of comfort to Elliot. Elliot talks about Chicken a lot, and she's incredibly important to him. When he's had a tough day or is struggling with anxiety, talking about Chicken has a calming effect on him. We joke about how lazy she can be, or what she may have been up to while he's at school, and it helps him re-focus if he's been stressed. Taking care of Chicken is very important to Elliot, he always wants to make sure she's happy. She just dotes on him and is never far from Elliot. Sometimes Elliot needs quiet time, but he may not necessarily want to be alone. Having Chicken by his side means there's someone there who doesn't have any expectations of him – he can just sit and be himself with Chicken. Chicken and Elliot are just brilliant together and I really hope their story will help highlight how incredible cats can be for people with autism."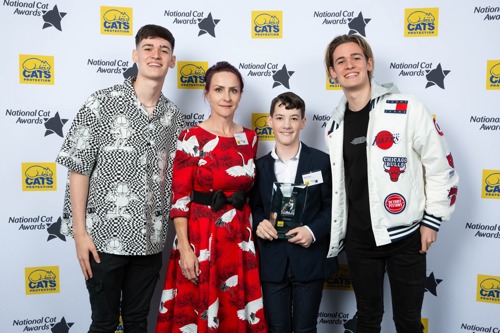 Pop stars Max & Harvey presenting the Furr-ever Friends trophy to Elliott Abery and his mother Jenny Abery. Credit: Teofil Rewers.
Cat Colleagues
Marley from Chichester, West Sussex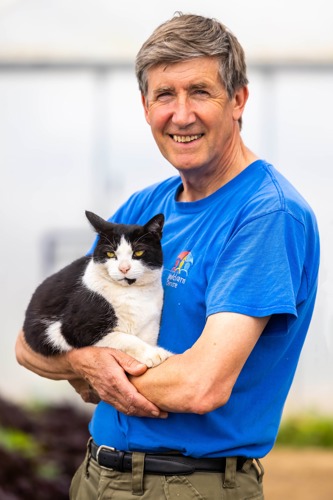 Richard Manning from the Apuldram Centre and Marley. Credit: PA
The Apuldram Centre is a special place helping adults with learning difficulties. No matter what is going on, ultra-friendly Marley is bound to be involved. Marley is a big part of life at the centre, where he spends his days attending staff meetings, joining in activities with clients, and chasing birds off the vegetable patch. Activity Support Worker Richard Manning said: "We have lots of activities for people who come to the day centre, such as arts and crafts, gardening and dance – and Marley gets stuck into all of them. He loves to be around people, so on a typical day he'll try and get round to see as many clients as possible and get involved in all the activities. Our clients love to see Marley and they always go away happy after spending some time with him. He makes them laugh with his funny antics, but also has a calming effect if people are having a bad day. He's very popular with the staff too, always helping with whatever is going on. During lockdown, with fewer staff on site, it was very quiet. For the staff remaining, having Marley around was much-needed company and comfort during a difficult time."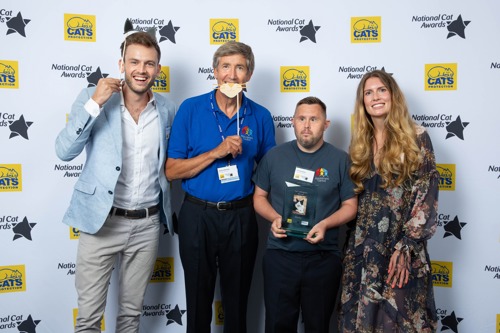 TV vet Dr Rory Cowlam and Animal Behaviourist Charlotte Carr presenting the trophy for Cat Colleague to Richard Manning, Activity Support Worker, Apuldram Centre and trainee Sam Burnhams. Credit: Teofil Rewers.
Most Caring Cat
Misty from Poole, Dorset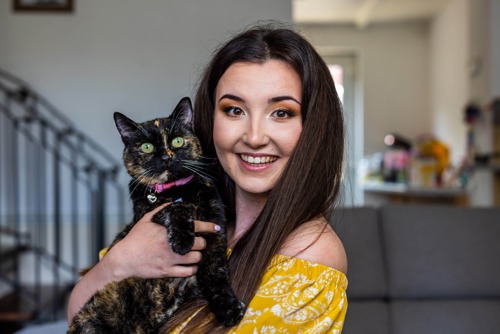 Coral Jones and Misty. Credit: PA
Coral was just 14 when she developed costochondritis, a painful condition that left her bedridden and unable to walk. But throughout it all, she had a loyal friend by her side for comfort and cuddles – Misty. And when Coral eventually learned to walk again, it was Misty who would cheer her on – appearing whenever she heard the sound of Coral's crutches on the ground. Six years on, and Coral, now aged 22, suffers from post-traumatic stress disorder as a result of her ordeal, but Misty is there to calm her. Coral said: "I was bedridden with very little mobility for about two years, which was incredibly hard. I was in pain, lonely and was basically watching my body waste away before my eyes. My one glimmer of hope was Misty, who was with me every day. She'd sit with me and was a friend when I didn't have any others. When I was in a wheelchair, I sometimes felt invisible to everyone apart from Misty – she was always there for me. Eventually I was able to start walking on crutches, but it was exhausting and a long road to recovery. When I came home from school, Misty would hear the banging of my crutches and come rushing out to meet me up the road – it was the best part of the day, and it was like she was cheering me on. As well as the illness, I had lots of painful procedures and still have traumatic flashbacks where I collapse. When this happens, it's Misty that brings me round – she headbutts me, cuddles up next to me and stays with me. It works every time and helps calm me and brings me out of my trauma attack."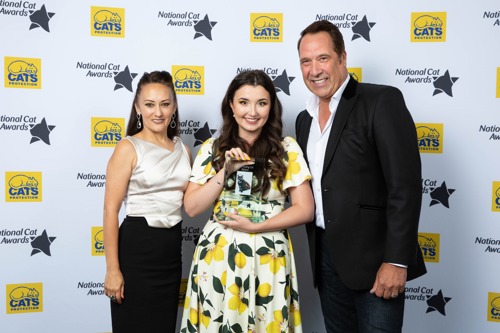 Dancing on Ice star Frankie Seaman and ex-England goalkeeper David Seaman MBE presenting the trophy for the Most Caring Cat to owner Coral Jones. Credit: Teofil Rewers.
We know that every cat is a hero to their owner, and if you think your cat deserves national acclaim then why not nominate them for the 2023 National Cat Awards? Nominations open January 2023 at www.cats.org.uk/nca