How to make tasty vegan cat-shaped pancakes
Looking to add some cat-themed fun to your Pancake Day? Or simply want to give your breakfast some moggy magic? Then have a go at our purrfect vegan pancakes, decorated to look like cute kitties!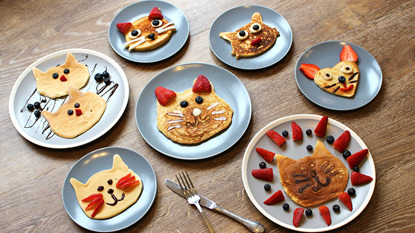 You could take inspiration from our designs, or style your pancakes to look just like your own cat. Don't forget to share photos of your creations with us on Facebook, Twitter and Instagram, we'd love to see them!
Remember, these pancakes are for humans only. Don't feed them to your cat!
Vegan cat-shaped pancakes recipe 
Makes 16 pancakes.
Ingredients
300g self-raising flour
1tbsp sugar
1tsp baking powder
1tbsp vanilla extract
Pinch of salt
400ml plant-based milk
Vegetable oil for cooking
Toppings (strawberries, blueberries, bananas, vegan chocolate sauce, plant-based yoghurt)
Method
Mix together the flour, sugar, vanilla extract, and salt in a bowl.
Gradually pour in the milk, whisking as you go, until a smooth batter forms.
Add 1tbsp of oil to a non-stick pan and put it on medium-low heat.
Add a couple of tablespoons of batter to the pan and shape it into a cat face (alternatively, you could make round pancakes and cut them into cat shapes later).
Cook the pancake for 3-4 minutes, until the surface starts to bubble, then flip it over and cook for a further 2-3 minutes until it's golden on both sides.
Repeat the process, cooking your pancakes in batches until you've used up the batter. You may need to add a little more oil to the pan each time.
Use your toppings to create cat faces on your pancakes. Don't forget the eyes, nose, mouth, whiskers and ears!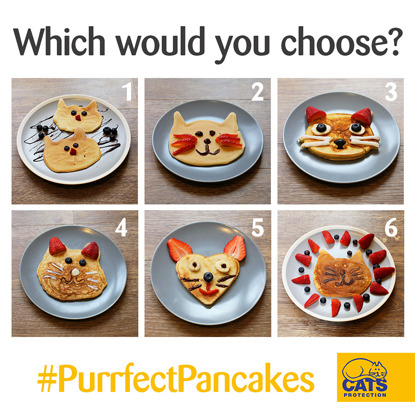 Looking for more cat-themed baking inspiration? Discover our Kitty Bakes series of recipes over on our YouTube channel.