After defying a shock diagnosis, Kristie O'Hara continues to do the job she loves caring for Dorset cats
Kristie O'Hara was enjoying her role as a Cat Care Assistant at our Ferndown Homing Centre when she received the news that she had a melanoma, or aggressive form of skin cancer, in early 2021.
She received surgery and believed the cancer on her face had been removed but unfortunately it recurred later that year as a metastatic melanoma of the skin which cannot be cured but can be controlled with immunotherapy drugs.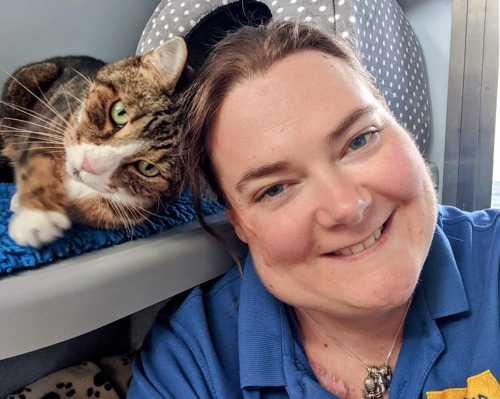 Kristie, now aged 28, has been living with the lifetime diagnosis and was surprised to receive a nomination for Animal Charity Employee of the Year at this year's Petplan & ADCH Animal Charity Awards which were held on 18 May. The awards recognise the remarkable work carried out by animal charities and not-for-profit organisations across the UK, Ireland and Channel Islands.
"I was amazed to receive the nomination," said Kristie. "The reasons behind nominations are kept secret but I think it must be to do with my diagnosis. I now have to balance work and life with an ongoing regime of skin checks, immunotherapy drug treatment, blood tests and scans. I also had to come to terms with the fact that the diagnosis is for life."
Despite the serious nature of the disease and potentially strong side effects of treatment, Kristie has remained determined not to let it hold her back. She refused to be signed off work for treatment, preferring to keep to the routine she knows and job she loves.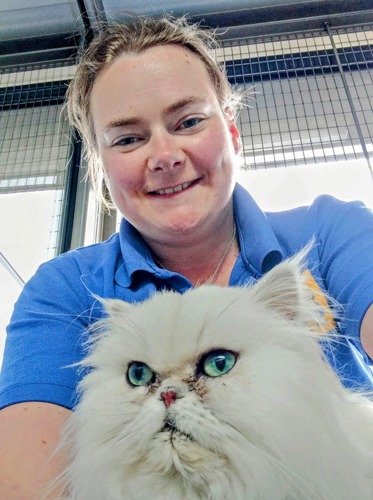 "I still want to help the team and the cats at the centre in any way I can," added Kristie. "My favourite parts of my job are still the same. I love health-checking cats when they first come in to find out what they have got going on as well as working with the less confident ones to bring them out of their shells.
"On the homing side of things, I enjoy the process of matching the right cat with the most suitable person and hearing how they have settled in their new home.
"I've been receiving treatment from the fantastic Dorset Cancer Centre and oncology team at Poole hospital for nine months now and currently have no evidence of disease, which is thanks to everything they do for people like me.
"I continue to stay positive for the future. After all, I am still doing exactly what I was doing before all of this started, I'm just now covered in factor 50 sun cream!
"It has changed my life and changed me as a person, but from when I was first diagnosed, I was determined that this was not going to break me or stop me doing the job I love. It was going to be the making of me, and it was."
 
Kristie's colleagues at the centre are quick to praise her upbeat approach to the disease and dedication to her role.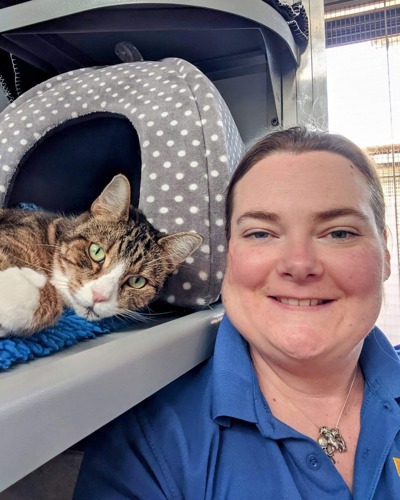 "Although she plays it down, Kristie has been through such a lot and yet has remained amazingly stoic and philosophical about it all," said Michele Hopper-Pay, Homing Centre Manager.
"Throughout her treatment she has never let it get her down, preferring instead to remain focused on enjoying the cat care role she loves so much. Her dedication to the cats has never wavered. It's even more amazing when you consider this has been during a global pandemic, which has been challenging for everyone!
"Our team is very close-knit and we have all wanted to help support Kristie from the moment she first told us, and it has been truly inspirational to watch her focus on all the positives, choosing to take the experience as something to grow from, and with the outlook of continuing to live and love life."  
Find out how you can get involved with Cats Protection.