Tales of courageous cats from around the world – part two.
While such acts of feline bravery and empathy tend only to hit the headlines when they are in defence of humans, there are exceptions. In 1996, an incident in New York that saw a mother of a newly-born litter save the lives of her own offspring captivated onlookers and became a global phenomenon.
When a rundown Brooklyn building became engulfed by fire, witnesses watched on in astonishment as a stray cat carried her kittens away from the thick smoke and raging flames and out into the street one-by-one. The new mother kept returning to the burning building until she had rescued all five of her offspring and, according to firefighters tackling the blaze, upon placing the last one on the pavement, blinded by blisters, she nudged each kitten with her nose before collapsing through exhaustion.
The moggy, who was later named Scarlett, left such an impression on the emergency services personnel who witnessed her act of bravery that they took her and her new family to an animal rescue shelter where they were nursed back to health. As the story spread, the centre received 7,000 adoption requests for Scarlett and her kittens and the brave mother would go onto live a long and happy life.
A heart-warming example of motherly love and sacrifice, the story garnered worldwide attention and Scarlett's act was immortalised on the pages of two books. The rescue shelter that helped Scarlett and her litter recover from the incident also recognised her bravery when they named their award for animal heroism the 'Scarlett Award'.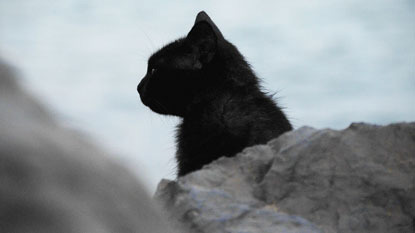 While all of the above acts can, perhaps, be traced back to a cat's natural-born instinct to protect lives,our final example of feline heroism apparently has more to do with intelligence than intuition.
Wheelchair-bound Gary Rosheisen, from Columbus, Ohio, brought Tommy into his home for companionship and in the hope that he would help lower his blood pressure. However, due to his lack of mobility and proneness to seizures, he also spied an opportunity to train his new moggy to raise the alarm if he was ever unable to do it himself.
Still unsure whether his repeated prompts for Tommy to hit the living room telephone's emergency services speed dial button would produce results when it really mattered, in 2005 Gary was finally faced with the scenario for which they had trained. In severe pain after falling out of his wheelchair, and unable to reach the medical-alert necklace he usually wears, he was reliant on Tommy to swing into action.
When paramedics reached Gary's house to come to his assistance, they were puzzled as to whom had raised the alarm. There had been no voice on the other end of the emergency call and when they made it into the property, they simply found a ginger cat lying next to the phone on the living room floor, with Gary incapacitated in another room. Despite no one seeing the act, the only rational explanation was that Tommy had sensed the danger, recalled his training and pressed the correct speed dial button.
After his rescue, Gary hailed his furry friend as his hero - a label that, it seems, could be used to describe many other cats around the world.
Tomorrow at our very own National Cat Awards, we look forward to getting to know more about this year's amazing cast of home-grown heroes.

To find out more about the National Cat Awards here.
You can read the first part in our heroic moggies series here.