Kitten watch: Heavily pregnant Daisy gets ready to give birth.
Follow the progress of Daisy and her kittens over the next few months with our kitten watch series.
Cats Protection's Bridgend Adoption Centre is awaiting the arrival of a litter of kittens as the latest cat to arrive in their care is heavily pregnant.
Gorgeous three-year-old moggy Daisy come to the centre after her owners moved away and left her behind, and she is thought to be around eight weeks pregnant. For cats, pregnancy lasts for 63-65 days, or around nine weeks, so Daisy could be just a week away from giving birth.
When she arrived at the centre she was given a full vet check-up and has thankfully been given a clean bill of health but will be closely monitored by the Bridgend staff to make sure she remains as happy and healthy as possible.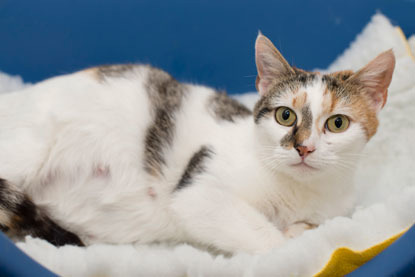 Pregnant cats, known as queens, need somewhere quiet, clean and warm to give birth, so Daisy has been put in a secluded and cosy pen with lots of comfortable bedding. She needs to eat 25% more than a normal cat would, so is being fed regular meals of kitten food, as it is higher in nutrients than adult food, and has access to plenty of fresh water to keep her hydrated.
Daisy is very affectionate with the Bridgend staff. She is calm and relaxed and has a very loud purr, which suggests she is very content. It is not yet known how many kittens she is expecting, but it could be between one and nine!
Although the arrival of kittens is exciting, giving birth can be incredibly stressful for a cat, and the kittens would need to find new homes, so we recommend getting them neutered from four months old. There are already thousands of cats waiting to find loving homes across the UK, so neutering is the most effective way to reduce the number of unwanted cats coming into our care. Find out more about the importance of neutering your cat.
Over the next few weeks and months, we will keep you updated on Daisy's and her kittens' progress, but if you would like to help towards the cost of her care then you can sign up to become a Cats Protection sponsor. Daisy is one of our many sponsor cats, so from as little as 19p a day you can sign up to help us provide her with the shelter, food, medical care and love she needs and receive regular updates about her and the other cats you are helping in return.
Alternatively, if you would like to make a one-off contribution to Daisy's care, you can donate via the adoption centre's Just Giving page.