Daisy's five-week-old kittens are gaining independence
Follow the progress of Daisy and her kittens with our kitten watch series.
The four kittens born at Cats Protection's Bridgend Adoption Centre in March are turning into little bundles of energy and love playing with their siblings and toys.
They spend a lot of time play-fighting and pouncing on each other, which is helping them learn boundaries and develop their hunting skills, and weaning is going well. They particularly enjoy munching on kitten food and have also started eating kitten biscuits too.
The kittens are gradually being weaned off their mother's milk
The kittens are also starting to groom themselves and learn to use their litter tray, but most of their time is spent snoozing. Kittens spend between 16 to 20 hours a day sleeping, giving their bodies a chance to grow and their immune systems time to strengthen.
The kittens' different characteristics
When they're awake, their individual personalities are continuing to develop with Daffodil and Dewi proving to be particularly confident. They are always up to mischief and are very playful – Daffodil's favourite toy is Daisy's tail! Emma and Eira are quieter and more reserved, but they are growing in confidence every day and learning a trick or two from their siblings.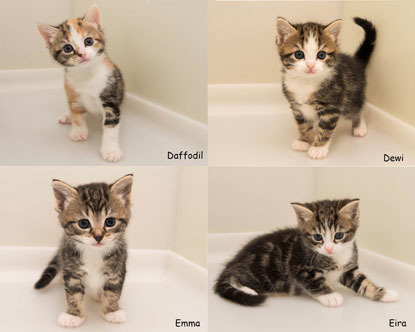 The kittens are quickly developing their own personalities
Now they are five weeks old, the kittens have had another vet check-up and their first worming treatment, which they will need to continue to have throughout their lives.
Mum Daisy also had a visit to the vet and has been given her second vaccination protecting her from cat flu, enteritis and feline leukaemia for a year. The kittens will get their own vaccinations when they are eight to nine weeks old, as this is when the protection from their mother's milk fades, leaving them vulnerable to disease.
Daisy is enjoying her regular breaks away from her kittens, giving her a chance to rest and recharge, and particularly enjoys a fuss and ear scratch from the centre's volunteers and staff.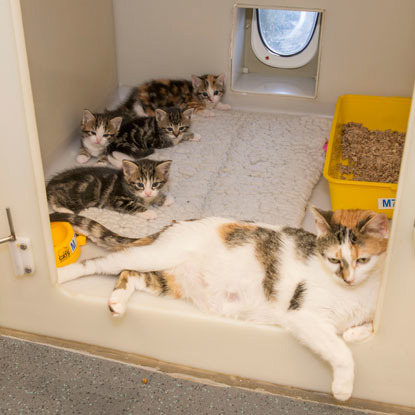 Daisy and her kittens have had their latest health check up
Over the next few weeks, we will keep you updated on Daisy's and her kittens' progress, but if you would like to help towards the cost of her care at the Bridgend Adoption Centre then you can sign up to become a Cats Protection sponsor. Daisy is one of our many sponsor cats, so from as little as 19p a day you can help us provide her with the shelter, food, medical care and love she needs and receive regular updates about her and the other cats you are helping in return.
Alternatively, if you would like to make a one-off contribution to Daisy's care, you can donate via Bridgend Adoption Centre's Just Giving page.
Although the arrival of kittens is exciting, giving birth can be incredibly stressful for a cat and the kittens would need to find new homes, so we recommend getting them neutered from four months old. There are already thousands of cats waiting to find loving homes across the UK, so neutering is the most effective way to reduce the number of unwanted cats coming into our care. Find out more about the importance of neutering or spaying.