Poorly Cornish Rex kitten Kiki was in agony when she arrived at our Bredhurst Adoption Centre in Kent
Four-month-old Kiki was in a sorry state when she arrived in our care, after her owner realised that she was unable to cope with the Cornish Rex kitten's welfare needs.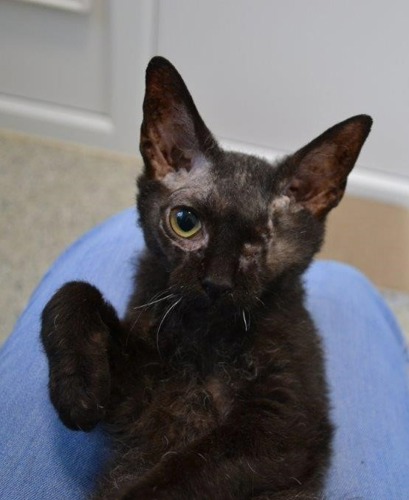 Kiki after the surgery to remove her eye
Bredhurst Adoption Centre Deputy Manager Stacey Faram said: "We took Kiki to our treatment room for a better look and were genuinely shocked to see the condition of her left eye. It was extremely swollen and almost popping out of the socket. She also had issues with her right eye.
"Vets said she would have been in agony and it is likely that the pressure would have caused migraines. She was obviously in a great deal of discomfort but she just wanted to be held and comforted."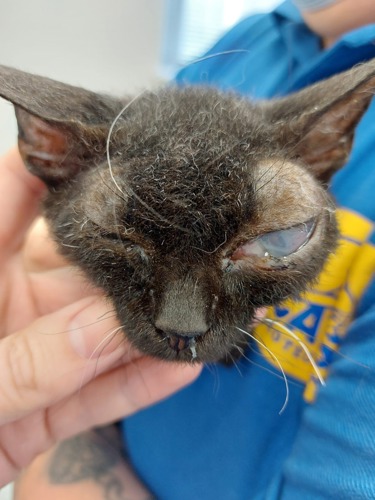 Kiki when she arrived at the centre with a very swollen eye
Examinations confirmed that Kiki had late stage glaucoma in her left eye and it would need to be removed. She also required entropion surgery on her right eye as the lashes had turned inwards and were scratching the surface of the eyeball. The vet administered overnight pain relief and Kiki was booked in for surgery first thing in the morning.
After surgery, Kiki was a totally different cat. Stacey said: "I went to visit her in her pen after the procedures and she immediately crashed out of her igloo and bounded over to me for a cuddle. I couldn't believe how affectionate she was, full of love and cuddles. It must have been such a relief for her after being in such distress.
"Kiki is the most incredible little cat. She totally stole the hearts of everybody who met her."
Treatment and aftercare would be just the start for Kiki. After appealing for suitable owners experienced in homing Cornish Rex cats known for their wiry fur and special grooming needs, a Gillingham couple stood out as clear candidates.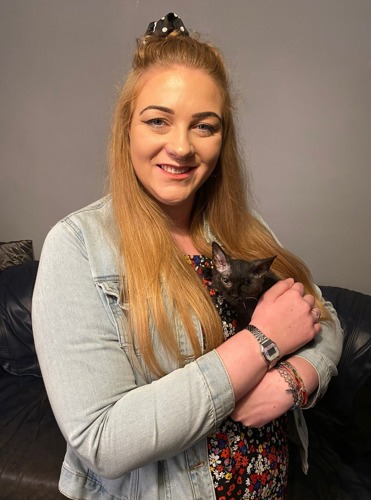 Thalia with her new feline friend Kiki
Thalia Kemp had previously volunteered for the Bredhurst Adoption Centre and her family owned Devon Rex and Sphynx cats. She and her partner Callum Carr had recently moved into a new home and were overjoyed at the chance to add Kiki to their family.
"The next day they visited to meet Kiki and the connection was immediate," said Stacey. "It took me an hour to prise them out of her pen, they got on so well. It was perfect. For me and my team it was certainly a moment to confirm why we do this job."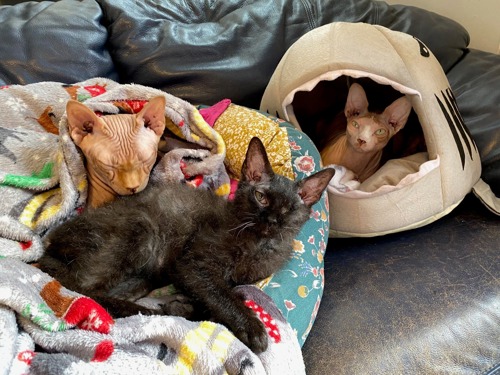 Kiki with Thalia's other Sphynx cats 
Thalia took Kiki home a week later. She said: "Kiki is settling in really well. She makes up for her small size with a big personality and is already bossing our other cats about. She especially likes her shark bed but she's had to learn to share because one of our Sphynx cats loves it too. They make a cute pair. I think they enjoy having a new playmate and cuddle-buddy.
"I've always loved cats and particularly unusual breeds. Even more so, I'm drawn to those cats who might be a bit different and need special attention, so Kiki really is the perfect cat for us. She has completed our little family." 
If you would like to add a new feline friend to your family, find out how to adopt a cat from us.