The lucky black cats who have lit up their owners' lives
For the past 10 years, Cats Protection's National Black Cat Day has been a chance to shine a light on black and black-and-white cats, who have sadly been regularly overlooked for adoption. 
Back in 2011, it typically took the black cats in our care a week longer to find new homes than cats of other fur colours, but fast-forward to 2020 and we've seen a promising change.
Black cats now find their forever homes 10 days quicker on average than they did 10 years ago, closing the gap between them and their more colourful counterparts. 
In fact, 44% of the cats we've rehomed over the last decade have been black or black-and-white, that's 65,000 monochrome moggies in happy new homes!
For this year's National Black Cat Day on 27 October, we're celebrating 10 years of championing black cats and asked you, our supporters, to share your stories of your black cat companions. Here are just a few of our favourites…
Lucky black cat Rosie and her owner, Susie 
Key worker Susie Taylor from Dorset adopted Rosie in April 2020, during a particularly difficult time in her life.  
"I was feeling very low and isolated as I had moved out of my home I lived in with my elderly mum, as I was so concerned I would catch COVID-19 from my job as a health care assistant at Bournemouth Hospital.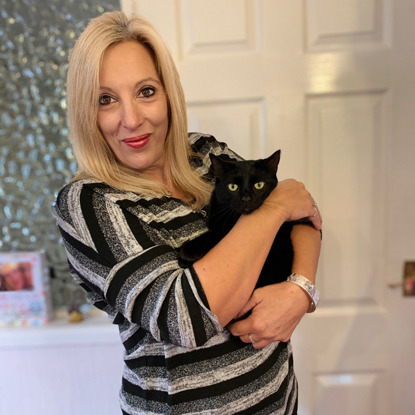 "The ward I work on had become a COVID-positive-only ward for patients, and though we had PPE, staff unfortunately seem to be catching it a lot so I couldn't put my mum at risk.
"Rosie was so scared at first and spent her first week under my bed but she loved the cat tower I'd bought her and started to spend her days on the top of it. 
"I ended up getting COVID-19 and was ill for three weeks. Just having a cat with me made me feel better and helped me not to feel so isolated. I really feel Rosie helped me get better faster and got me out of a very low place. 
"Rosie and I returned home to my mum in June and Rosie is now the most confident little cat. She loves the outside. I've had her neutered, chipped and insured so hopefully Rosie will now live her best life with us."
Black cat Cherry and owner, Josie 
Diagnosed with type 1 diabetes in May 2019 and suffering with her mental health, Josie McGreal from East Yorkshire found an unexpected companion in Cherry. 
"My husband works full time so, in the day times when he was at work and the children were at school, I felt very lonely.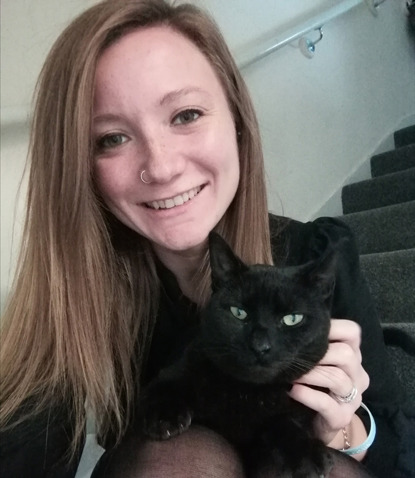 "I felt like I needed a cat to keep me company during the day and had my heart set on a ginger kitten. I also said I didn't want a black cat and I would prefer a boy. 
"We decided to go down the adoption route and we were asked if we wanted to go to the cattery. I initially said there was no point as I knew they didn't have any ginger kittens, but I decided why not as it would be nice to see them all. 
"When we got there my husband had seen this black cat and told me and our children to go look. She was super friendly and when I went in the pen with her it was love at first sight! 
"She really helped me get through the shock of being diabetic and we couldn't be happier. I would do the school run and then just sit and stroke her for hours on end! She is so affectionate and always wants cuddles. She even sleeps under the covers with us and comes up really close to me so we're touching. She's such a happy cat.
"She always greets us through the door. She loves tummy rubs too! She's so good with our children and our new kitten, I just love her so much. She really helped me get over being diabetic and at the same time we helped her by giving her a forever home."
Lucky black cat Cleo and her lucky owner, Jacqueline 
Adopting Cleo on impulse was Jacqueline Wilkinson from Croydon's best decision, as she has supported her through a broken arm, divorce, house move and a global pandemic. 
"My ex-husband and I adopted Cleo in 2017 from Cats Protection's Mitcham Adoption Centre. It was somewhat of an impulse adoption. I'd always wanted a cat but we really only called in to show our support to the new centre. Two visits and three days later, we brought her home with us.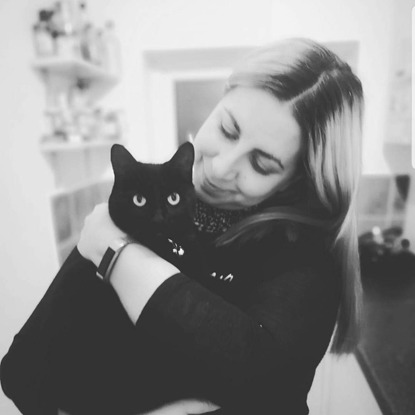 "Since then she has supported me through various illnesses and ailments. She never left my side when I broke my arm, as well as a divorce and moving house. 
"The last eight months have been particularly intense for the whole country and I've recently been off work with stress. Cleo has provided company, warmth and love over this time, as well as participating in my afternoon video meetings when I am working! I may well have gone mad without her.
"She is, like all cats, utterly crazy at times, jumping up walls and perching in the weirdest of places but I wouldn't change her for the world and I absolutely wouldn't be without her."
Black cat Willis and owner, Jenny
Little did Jenny Mitchell from North Norfolk know, but she would find a life-saving companion in Willis.
"We got Willis in 2015 from Cats Protection's Dereham Adoption Centre. He was called Moo K5 then as his litter was found in a cowshed.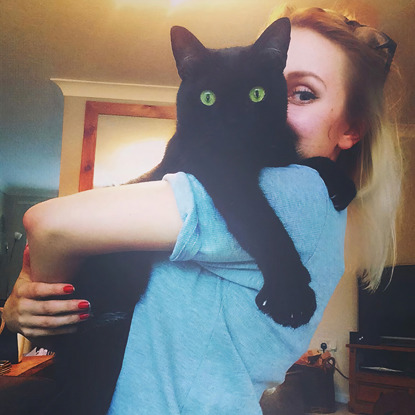 "A couple of years after we brought him home, I went through a stage of having hypoglycaemic episodes in the middle of the night and, rather out of the blue, Willis started waking me up before I woke up myself.
"Usually he'd rub his face over mine until I eventually gave in or, if that didn't work, he'd paw at my head until it did! I'd then go downstairs to sit in the living room and have something to eat and he'd come and sit with me, almost like he was checking I was ok.
"I'm still not sure what was causing me to have the lows and although none were ever serious enough to warrant medical assistance, Willis was probably a huge part in preventing that.
"I still have lows in the night (I've had diabetes for nearly 20 years so it's a common part of my life) and he'll always come and sit with me when I'm downstairs, he's just not quite so good at waking me up these days (unless it's to remind me he wants breakfast!). 
"He is very affectionate and always has been, he loves cuddles and loves to be handled, so he's often not very far from our sides. I genuinely think that's because of how he was looked after by Cats Protection before we adopted him – I mean how common is it for cats to like going to the vets, because Willis seems to enjoy it!?"
Older black cat Shadow and her human, Gavin 
Shadow arrived just when Gavin Harvey from Glasgow needed her most, and now she has a permanent place in his heart… and on his skin!
"Shadow came into my life when I was really down. I came across her photo on the Cats Protection Facebook page and I wanted her from that day.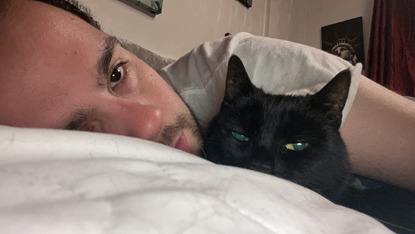 "She was deemed too old and unwanted but I can tell you she isn't either of those things. She's the best thing to ever happen to me. 
"Shadow has been a ray of sunshine in my life. She picks me up when I'm down and she makes me happy in every way. She's such a beautiful cat too with glossy black fur and bright yellow eyes. There's nothing I wouldn't do for her. 
"I always say we saved each other. She was sad and I was sad and now we're happy together. I'll forever be grateful to Cats Protection for bringing her into my life. 
"Shadow has shown me love and I always say we were destined to meet. I'm also a crazy cat daddy and I have her face and name tattooed on my hand!" 
If you've got a beautiful black cat, share their photo on social media with #BlackCatDay on 27 October and help us celebrate a brilliant decade for monochrome moggies!