Ronnie became a familiar figure at a Cornwall holiday park for 10 years before coming into our care
Cat-loving staff from a park in St Austell, Cornwall took pity on a mature moggy who had been a familiar but elusive figure around the site for over a decade.
Originally believed to be a female cat, Ronnie had been affectionately named Lily and was often seen strolling around, venturing to neighbouring fields, and was known for being friendly with the campsite chickens.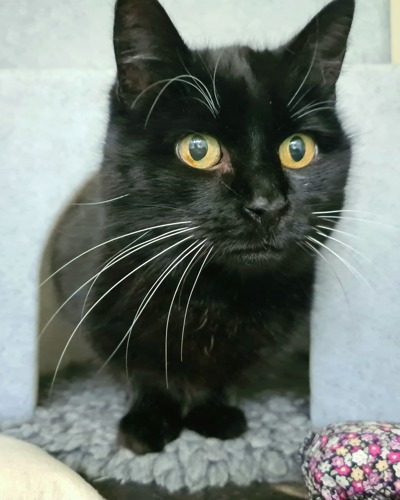 When the staff began to notice Ronnie's advancing years, they took him to St Clement Veterinary Clinic in Truro, where the sweet-natured chap was looking worse for wear upon arrival, with sunken eyes and grubby ears. He was also discovered to have hyperthyroidism and bad teeth.
With no microchip to tell the vet team who owned Ronnie, they contacted our Cornwall Adoption Centre to take him into care and continue his vet treatment, as well as the search for his owner.
Sadly, no owner was found but he is now in his best health, having had thyroid and dental surgery, and needs a new home of his own.
"We're extremely fond of Ronnie here at the centre and very grateful to staff at the holiday park for taking him to the vet," said Adoption Centre Manager, Libby Jepson. "We don't know the circumstances around how he came to be at the park but it's worth remembering that cats are creatures of habit who not only need a regular routine to feel comfortable but also need time to adjust to new places and create scent trails to help them navigate. It's certainly not advised to take cats on holiday.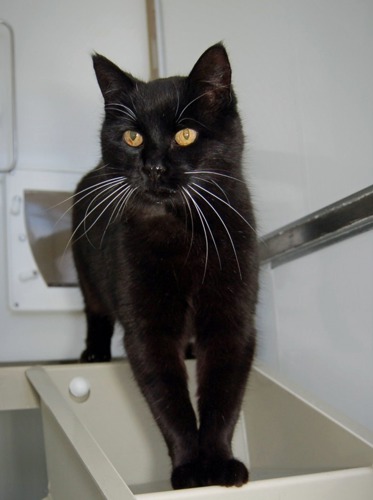 "We'd also appeal to people never to leave cats to fend for themselves but to take them to your nearest rehoming organisation or vet if you are no longer able to give them the care they need.
"After his ordeal Ronnie was really quite nervy when he first arrived but now he's settled well and darts in and out of his cabin with excitement when he sees us. He enjoys a good conversation, followed by lots of chin rubs! He is a very characterful boy and will make a truly lovely addition to a home."

Ronnie would be best suited to a home away from busy roads where he can be 'top cat' with no other pets or children so that he can shower his new owner with affection.
If you live in the Cornwall area and would like to offer Ronnie a home, visit the Cornwall Adoption Centre's website.
This year, players of People's Postcode Lottery are supporting Cats Protection's advocacy work and helping to cover the costs of looking after cats like Ronnie in our centres. Their support has funded the care of around 50 cats at the Cornwall Adoption Centre over the past year.
Cats Protection is campaigning for compulsory microchipping of pet cats across the UK, as is already the case for dogs. In England, the measure is expected to be introduced later this year.
Senior Advocacy & Government Relations Officer, Madison Rogers, adds: "Every day, Cats Protection sees how important microchipping is for cats. We encourage all owners to get their cats chipped to ensure they can be reunited with their beloved pet if they do sadly go missing like Ronnie. Owners also need to ensure the contact details on their cat's microchip are kept up to date. It just takes a quick call to your cat's microchip company, or many can be updated online. If you don't know which company your cat's chip is registered to, a vet will be able to help"