Cats Protection's Honiton Branch are celebrating the successful homing of the final group of kittens from the feral colony
2021 was a busy year for our Honiton Branch, as they rehomed more than 40 cats and neutered 163 cats by October.
However, it has been the most recent humane trapping of a pregnant female cat at a farm outside Monkton that has been cause for most celebration.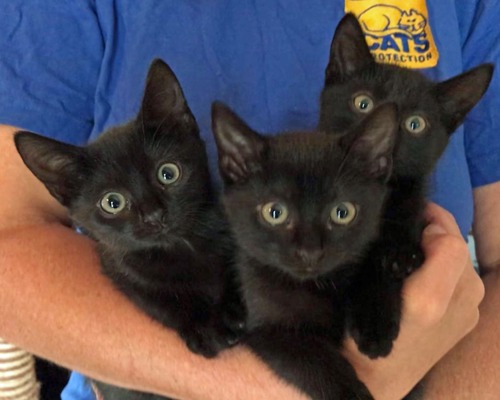 Ebony, Jet and Midnight were socialised and found new homes
Originally contacted when three young kittens and some feral adults were seen around the farm, the volunteers set humane traps and were able to catch the kittens and take them into care.
Two were young enough to be handled, socialised and settled in a domestic home, however one of the group was too old and was best suited to being the resident mouser at a stables.
Feral kittens must be under eight weeks old to be successfully introduced to a home environment and socialised with people. Poorly socialised kittens experience ongoing stress due to their fear of people and it is therefore best for the welfare of feral kittens found at eight weeks old or over to be trapped, neutered and returned to their original territory as it is the environment they are familiar with and were born into.
Bob Carter, Branch Coordinator, explains: "When we caught the kittens' mother she was heavily pregnant again and within two days of being in care she gave birth to three more heathy kittens. She was a very good mother and allowed us to handle her kittens, who were called Ebony, Jet and Midnight, making them three more perfect candidates for life in loving homes."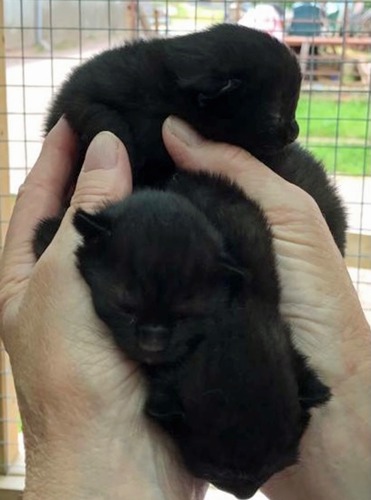 Ebony, Jet and Midnight during their first few weeks in our care
Further traps were set, and three more males and another female were caught, all of which were neutered and released back to the farm.
Bob adds: "There was one cat that was very elusive and defied being caught, she was eventually trapped after about four weeks of stealthy attempts. She was also pregnant and gave birth within three days to four kittens.
"As this mother was much more possessive of her kittens, they stayed with one of our very experienced fosterers who was able to socialise all the kittens after they had been weaned. The kittens went on to enjoy life in a home while their mother was neutered and returned to the farm where she was happiest."
The branch neutered 16 cats from the farm, including 10 kittens who have all been happily rehomed.
Bob concludes: "It really shows how vital it is to neuter cats and also not to let feral colonies get out of control. We're really grateful to the farm owner for getting in touch early, which allowed us to help the cats before the situation got out of hand.
"Interestingly, every single cat and kitten was black. This sometimes can be a problem, in that black cats can be more difficult to home, but fortunately we had more enquiries to give the kittens homes, than we had kittens!"
To help minimise the numbers of unwanted kittens born to domestic, feral and community cats, Cats Protection champions neutering and spaying, advising that cats should be neutered as soon as safely possible, ideally at around four months old or younger. We can assist people on low incomes to neuter their own cats with our means-tested neutering scheme.