Cat missing for three years is finally reunited with his overjoyed family.
This post has been written by Liz Jones, Co-ordinator at our Fraserburgh Branch
In July 2013 Ollie the cat who lived in Peterhead, went into a local cattery while his owners, the Bailey family, went on holiday.
On 27 July, just before his owners were due home, Ollie managed to escape through a small crack in the roof of his pen. The cattery staff were horrified and naturally Ollie's owners were too once they were told what had happened. I remember Ollie being reported as lost on Fraserburgh Branch's Facebook page along with all the other CP branches' pages in the area, the local newspapers ran a story about him and many lost pet sites as well as Petlog were featuring him as lost. We at Fraserburgh CP, Ollie's owners and other sites had numerous reports of sightings of Ollie but it quickly became clear that none of these cats were him.
Over a two year period the hunt for Ollie continued, his owners were heartbroken and by now were starting to give up hope that he would ever be found. Many CP volunteers and members of the public were still keeping an eye out for him and from time to time his name would crop up when a tabby cat was found as a stray, but sadly none were Ollie.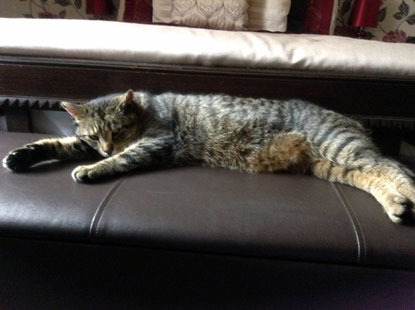 His owners moved home from Peterhead to Turriff (nearly 30 miles away) and it was at that time they decided to close down their Facebook page asking for any information or sightings of Ollie as they were now certain he would never come home. They had resigned themselves to thinking the worst and that perhaps he'd met with an accident.
About two weeks ago, we received a message from a lady in St Fergus, a village four miles away from Peterhead and about two to three miles (as the crow flies) from the local cattery. The message was that a stray tabby cat had started coming into her garden and very much wanted in to her house. She asked if we could advertise him on our branch's lost and found page. At the time we had no spare pens but the lady was quite willing to make sure he was ok. We duly put him up on our page as a found stray and I was interested to hear that a lot of people mentioned how much he was like the cat that went missing from the cattery.
Our fosterer and treasurer Janice asked the lady to bring him over to her so he could be checked for a microchip. This was done on 19 June and the scan showed that yes, he was microchipped. Janice sent me the microchip number and I checked on the database immediately. Oh my, I couldn't believe it when the information came back. The cat's name was Ollie and the registered address was in Peterhead… thankfully along with a mobile phone number and of course the owner's name.
Janice rang the number and it only then came to light that the owners had moved from Peterhead. What a surprise they had when they knew we had found their beloved Ollie, especially as it's almost three years since his great escape!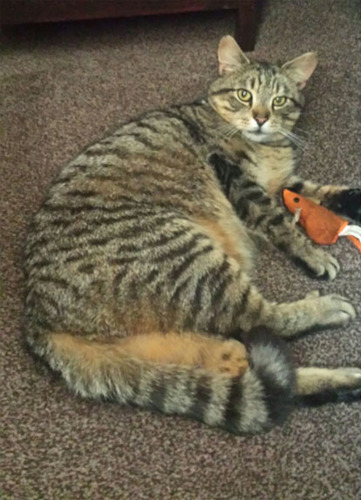 His owners were in tears when they picked him up as they were sure he'd never be found. It was also lovely to hear from many members of the public saying what great news it was after so long.
I have spoken to the owners and advised they now get Ollie's address details updated on the Petlog database. They told me Ollie has settled in to their new home as if he were never away and behaving in the same way as he always did. They were taking him off to the vets to restart his course of injections and have a check-up.
This sort of story is heart-warming and it also lets people know that CP doesn't just neuter and rehome cats and kittens, a lot more goes on behind the scenes. Thought you'd like a happy ending story!
Editorial note: Remember that if you move home or change any of your contact details that you can be traced should your cat stray. You can update your cat's registered details by contacting your existing UK database company. Alternatively you can contact Petlog via www.petlog.org.uk; or Anibase via www.anibase.com
If you are moving home, you can find further advice here.