Young cat and disabled kitten thriving against all odds
Maddie, a nine-month-old, heavily pregnant cat who arrived at Cats Protection's Birmingham Adoption Centre in July, finally has a long-awaited happy ending, but her life could have turned out very differently. 
Born to young parents herself, Maddie's owner's landlord had threatened to remove her and her parents if arrangements weren't made for them to be rehomed.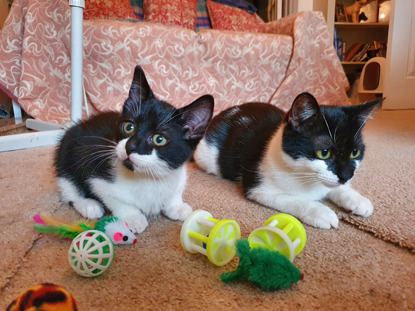 Maddie and her kitten Micah (now renamed Milo)
Not only was the cats' safety at risk but none of them had been neutered, meaning if their owner had not reached out to the centre for help, Maddie and her mother could both have had up to 18 kittens each year.
Maddie's parents, Margot and Mason, were neutered and moved to new loving homes after being taken into the centre's care but nine-month-old Maddie was heavily pregnant and gave birth to two male kittens, Maddox and Micah, just nine days later.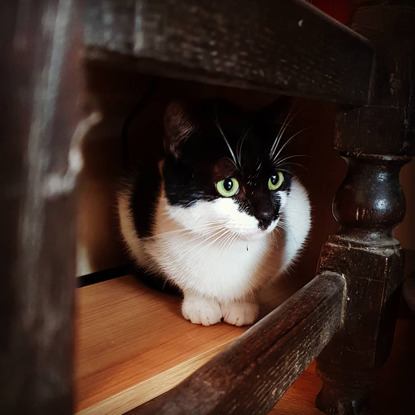 Maddie in her new home
The difficulties should have been over for Maddie after she gave birth but at five weeks old the kittens began to show signs of having cerebellar hypoplasia, a neurological disorder that prevents the part of the brain that controls motor skills and movement from developing correctly in the womb. Kittens with this condition have jerky movement which affects their ability to balance and coordinate their limbs.
The kittens' condition became increasingly evident as they grew and while Micah was not held back, his littermate Maddox became extremely poorly alongside having the condition and sadly did not survive. 
Luckily, little Micah eventually thrived and enjoys playing and creating plenty of kitten mischief despite being wobbly when he stands or moves.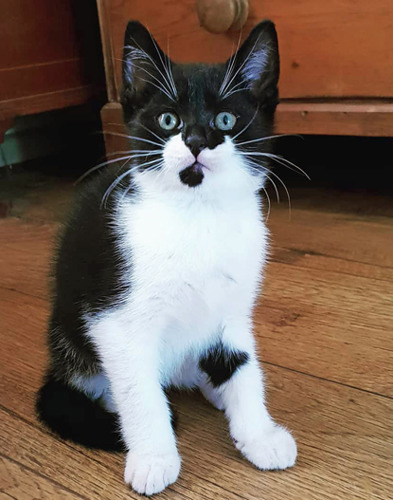 Micah (now renamed Milo) looking all grown up
Cerebellar hypoplasia is usually caused by the mother having feline infectious enteritis or feline panleukopenia, a disease caused by feline parvovirus, which is then passed on to the unborn kittens. The disorder can be prevented by routine vaccinations prior to pregnancy.
Cat Care Assistant Alice Batchelor-Reynolds said: "Micah grew into a gorgeous, cheeky kitten who absolutely loves life despite being unsteady on his feet. He has already started to adjust and will continue to learn to adapt to his condition over time. Eventually, he won't be as wobbly. 
"Micah and Maddie are now enjoying life in a wonderful, loving new home where Micah has been renamed Milo.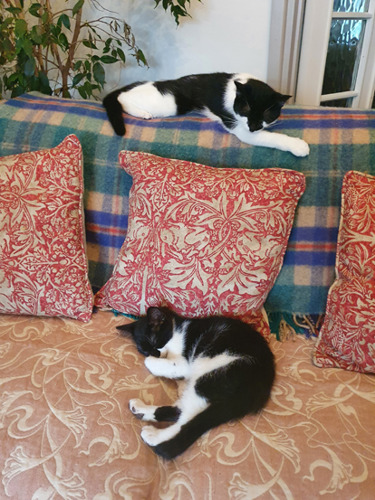 Maddie and Milo in their forever home
"However, we cannot overlook that preventative vet treatment, including timely vaccinations and neutering, would have changed the outcome for all generations of their family. 
"Micah and Maddie were very lucky because their owner realised they needed help and reached out to us but, like little Maddox, many in their situation might not have survived without intervention, especially if there had been pregnancy complications. 
"We would urge all cat owners to invest in early vaccinations and neutering for their cats, it's the kindest option in the long run and can prevent costly vet bills later on." 
For details of how Cats Protection can provide financial assistance with neutering, visit our neutering guide. 
You can also find help and advice on caring for disabled cats.