Kevin the Pirate thanks his training for the London Marathon for saving his life, and now he's doing it all again to raise money for cats
Known as Kevin the Pirate to his friends and supporters, Kevin Galer from Walsall runs marathons with a smile on his face, rum in his flask and a black parrot named Russell on his shoulder.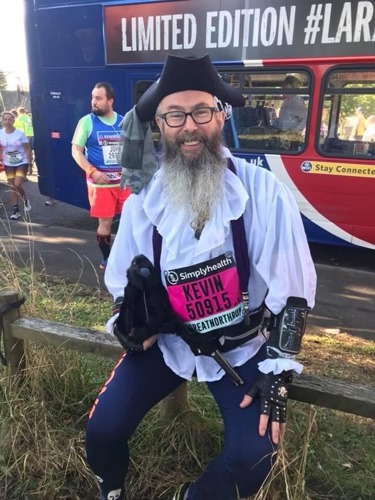 But behind the smiles and fun is the stark reality that 65-year-old Kevin would have died in 2018 if he hadn't begun running in aid of his local children's charity.
Kevin is the first to admit that he was overweight and unfit when Acorns Children's Hospice invited him to take on the London Marathon.
Always one to face a challenge head-on, Kevin, who has raised over £10,000 for good causes, agreed and started training for Couch to 5k then the Great Birmingham Run before completing the London Marathon, Great North Run and Great Birmingham Run for a second time, all in 2018.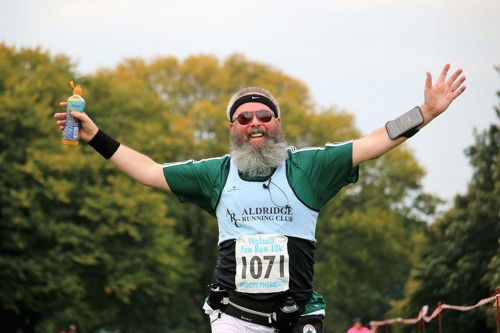 Unknown to Kevin, his years of leading a less healthy lifestyle had taken their toll and he had a heart attack in December 2018, just two months after his last race of the year.
"After my heart attack and subsequent surgery, I asked whether I'd put my body through too much by taking on the running events," said Kevin. "The cardiologist told me it was the training and running that saved my life.
"After that, I knew I had to get back to running and to my family's horror I entered the ballot for London 2020 but COVID-19 changed everything. Initially lockdown was about drinking more than training but a friend got me kicked into action and we did the marathon virtually with only two weeks of training."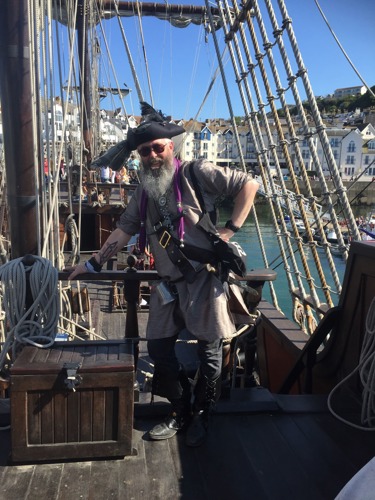 As the lockdowns deepened Kevin's life took a turn. He was diagnosed with sciatica in February this year and unable to run, needing to maintain isolation and struggling with work and financial issues, Kevin tried to take his own life.
"It was a very dark time, but helped by my wife and daughters, I was diagnosed with clinical depression and put on medication," explains Kevin. "Soon after, a close friend encouraged me to do a Parkrun and lacing up my trainers once more also helped the depression start to lift.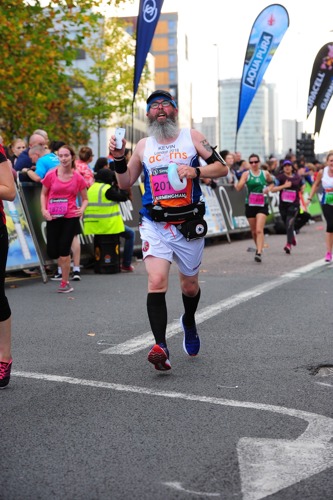 "I have received incredible support on social media and from running groups which has empowered me to talk more openly about my mental health. We all need to talk about it – men in particular will too often suffer unnecessarily in silence."
Kevin soon started training again and took part in the virtual London Marathon on 3 October and the virtual Boston Marathon on 10 October. Now he's working towards the 2022 London Marathon where he'll be raising money for Cats Protection.
Kevin added: "We have five cats, my wife works at the Cats Protection shop in Aldridge and our whole family has volunteered either in the store or helping our local branch with fostering, adoptions and trap, neuter and return work with feral cats in the community, so it's a cause that means so much to us all. Of course I'll be leaving my parrot at home on race day and will be running with a black cat mascot on my shoulder instead."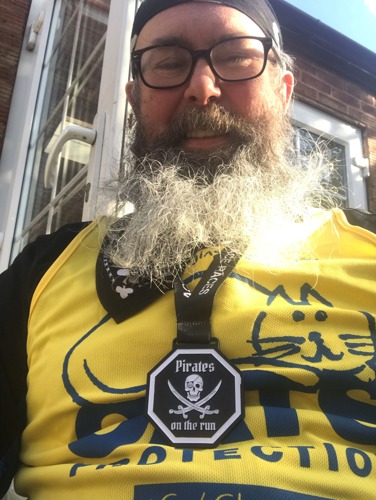 Kevin has set himself a fundraising target of £2,000 and anyone wishing to sponsor him can visit his JustGiving page.

Despite the serious reasons behind running, Kevin never takes himself too seriously nor loses sight of the fun and exhilaration of a great race – especially when he draws cheers of support from the crowd for his pirate outfit.
"Never ask me for any genuine advice on training and running, I do it with the sole ambition of having fun and finishing," said Kevin. "I finished both London Marathons and the Great North Run with a water bottle full of rum and black."
Cat fans who are keen to join Kevin and take part in a running event for Cats Protection can reserve a place in one of next year's biggest races or get in touch with Gina in the Events team to find out more on 01825 741 960 or events@cats.org.uk