Sponsor cat Princess and her cute kittens have been drawn by famous illustrator Simon Tofield
Princess arrived at our Warrington Adoption Centre when her owners could no longer care for her.
Only a kitten herself at 18 months old, she was heavily pregnant with her second litter of kittens, but found comfort and safety in one of our special sponsor pens, funded by our caring Cat Sponsors.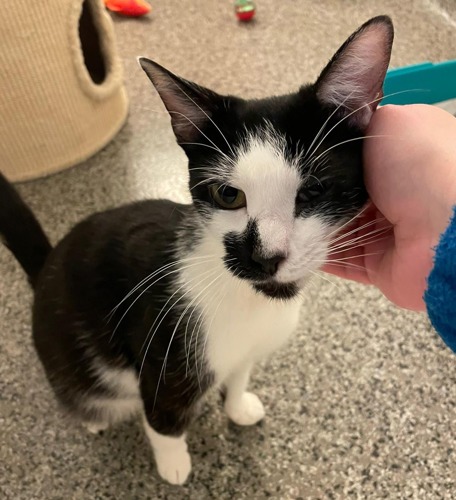 Princess enjoying a fuss from her carers
Princess was very shy at first, but with lots of love and support from our cat carers, she quickly grew in confidence.
As a young cat she loved to play, and particularly enjoyed batting around ping pong balls, but her Hide & Sleep® cat bed was always there to retreat to when she needed a rest.
Soon Princess gave birth to three gorgeous kittens, who were named Frog, Dragon and Unicorn.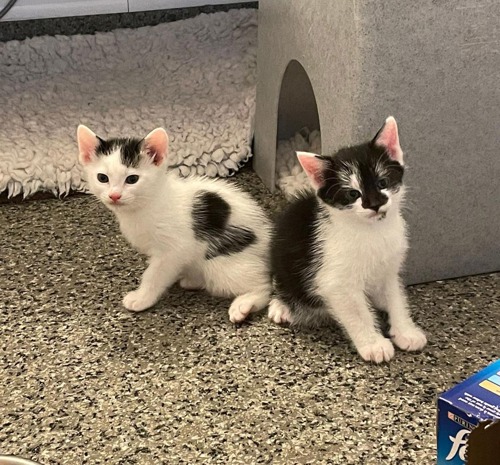 Two of Princess' mischievous kittens
The safety of the sponsor pen was the perfect place for these kittens to find their feet – there was much jumping, chasing and playing to be had, as well as learning to eat independently and use the litter tray.
Once the kittens were weaned, Princess was then neutered to make sure she didn't have any more litters and could focus on being a young cat.
Her kittens were also all neutered once they were big enough too, ready to go to their forever homes.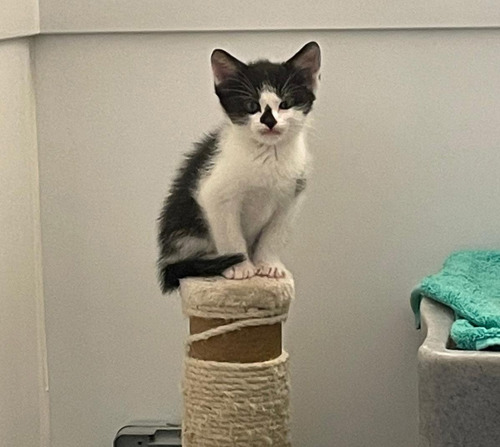 The kittens were cared for in a sponsor pen
Princess, Frog, Dragon and Unicorn are all with their new families this Christmas thanks to having the safe space of a sponsor pen when they needed it most. 
Princess (now called Annie) is settled with new owner Lily. She said: "She's both cuddly and independent. She loves to climb – we have a climbing post from floor to ceiling and she climbs up it and jumps off! She sits on the tops of doors too. She is a great addition to our family and is the loveliest cat we've ever had."
Unicorn (now Ronnie) and Frog (now Eddie) are living with Donna, who said: "They're two totally different characters, but both full of fun. They've completely taken over the house. We wouldn't be without them."
Phil adopted Dragon (now called Keith) and said: "He's fantastic, loveable and cheeky. He makes us laugh because he sticks his tongue out when he's sleepy – we don't even think he knows he's doing it. He's a proper lovely little lad and we can't imagine life without him."
Our Cat Sponsorship scheme is supported by everyone's favourite cartoon moggy, Simon's Cat and so to celebrate the story of Princess and her kittens, illustrator Simon Tofield has created some special drawings of them.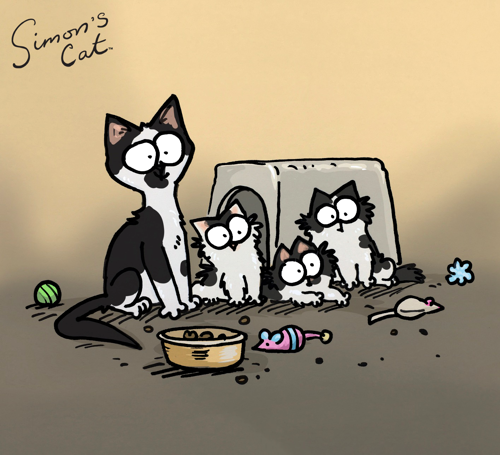 The first Simon's Cat illustration of Princess and her kittens
Simon Tofield said: "We're proud to support the Cat Sponsorship scheme to help improve the lives of cats like Princess. There are so many unwanted cats needing shelter and kindness, and sponsoring a pen is a great way to help Cats Protection care for them while they await new homes."
Sponsoring a cat pen at one of our centres helps ensure cats and kittens get the care, shelter and food they need to get back on their paws.
You can sponsor a pen from just £1.38 a week, or even give cat sponsorship as a gift to a special cat lover in your life.
Another cute depiction of this feline family from Simon's Cat
In return for your sponsorship you'll get regular updates about the cats staying in your pen, so you can see who your money is helping.
Find out more about Cat Sponsorship and choose a cat pen to sponsor.