An elderly companion for older cat Thomas.
In the summer of 2014 Cats Protection's Fareham & Waterlooville Districts Branch took in an elderly cat called Butch after his original owner died and no-one in the family could take him in.
He was adopted by Doug, who at 85 years old said he'd like an older cat too. He renamed the cat Thomas and wrote to the branch to tell them how Thomas was settling in. His letter reads:
"After hearing about a 15-year-old tabby needing a place where 'he can spend his remaining years in the comfort of a loving home with an armchair to relax in', I was taken to meet Butch.
"To my delight and everyone's surprise he jumped at once onto my knees and, with a confident rumbling purr, made my acquaintance. That was mid-August. Butch, who I renamed Thomas, came to live with me on 16 September after my summer holiday.
"Now it's a few days into October and in that short time, Thomas has happily begun to make his home with me and what a delight that has been.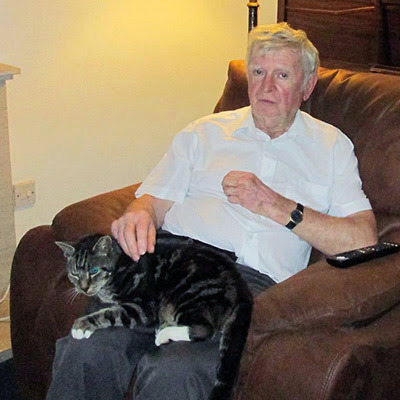 Thomas enjoying new owner Doug's company
"He is quite a character, very affectionate and so happy when I make a fuss of him and yes, he is a lap cat! On the other hand, he is absolutely sure of what he wants and tells me with a loud miaow. My favourite (and new) relaxer armchair is now his and his alone!
"He is a very sensible cat with good manners, always grooming himself and I didn't need to show him where his litter tray was, he found it for himself. He empties his plate, eating happily, though he prefers a value brand over anything else except fresh chicken which is perfection as far as Thomas is concerned as his little nose and strident voice testify when on a Sunday I prepare a roast chicken lunch! Oh my goodness, as soon as the smell from the oven gets going, he is awake from his slumbers in the armchair and all a-quiver by my feet scarcely able to contain his impatience.
"Fifteen he may be but Thomas is a total delight, I am so glad he has come to live with me."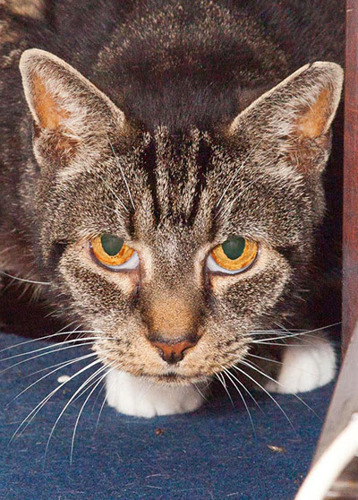 Thomas has settled into his new home well
From 1 April – 4 May 2015 is National Pet Month so we're celebrating the wonderful bond between pets and their owners.