Yogi is the 1,000th cat to find his purrfect new home thanks to the Cats Protection centre in Gateshead
The dedicated team of volunteers and employees at our Tyneside Adoption Centre are celebrating a milestone adoption.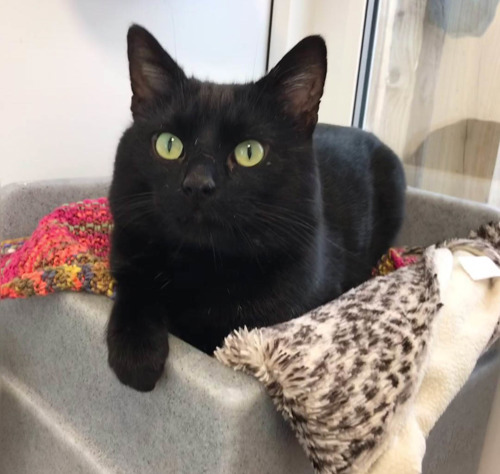 Young stray Yogi is the 1,000th cat to be rehomed by the centre since it opened in 2018 and to mark the occasion they have launched a special fundraising appeal to help them carry on caring for cats in the North East.
The centre was officially opened on 14 July 2018 by actor Stephen Tompkinson and musician and performer Sam Lavery.
Sam said: "I was thrilled to attend the opening of the Tyneside Adoption Centre in 2018, so am even more thrilled to hear that this week they have rehomed their 1,000th cat, the very lucky Yogi!
 
"I would like to congratulate the team for all their hard work making sure that local in-need cats and kittens are given the best possible chance at a better life.
"Thanks also to all those people who have adopted, fundraised or donated money to support the charity's important work. I know everyone at the centre has gone above and beyond, particularly during the pandemic, and wish them every success for the next 1,000 cats!"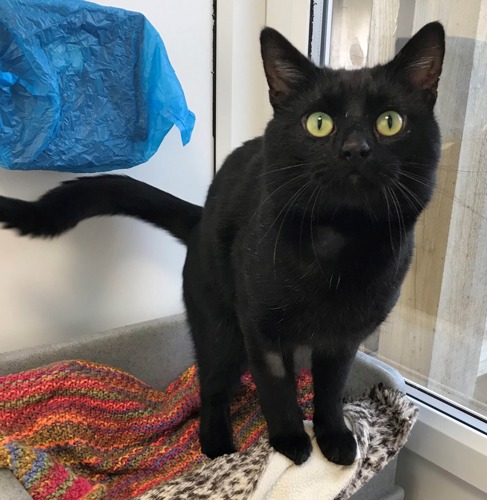 While the past year has been challenging, a new hands-free homing process has allowed cats to safely be adopted while adhering to COVID-19 guidelines.
Tyneside Adoption Centre Manager Emzi Frater explains: "The whole team has really worked together through the local and national restrictions and the safety measures we've all had to take to keep our cats, team and supporters safe.
"Of the 1,000 cats we've homed as a new adoption centre, almost 250 of those adoptions have been through hands-free homing since last summer, which is a fantastic achievement."
The very first cat to be adopted from the centre back in 2018 was black-and-white cat Jimbo, and just three years later, Yogi is the 1,000th.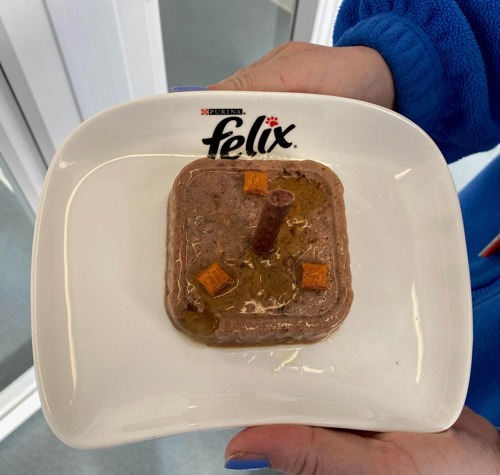 Yogi got a special 'cake' made from cat food to celebrate his adoption 
Head Receptionist Shannon Watkin said: "Yogi came to the centre having lived as a stray for a year, which is half of this young boy's life. When the person who brought him in decided that they had done all they could to find his home but were unable to take him in themselves, they contacted us here at the adoption centre for help."
As with all strays, the centre searched for the owner and when none came forward, he was seen by the vet for a full health check, which included vaccinating, neutering, de-flea and de-worming and microchipping.
Yogi was matched through hands-free homing with new owner Sandra, who on first sight called him "a beautiful boy".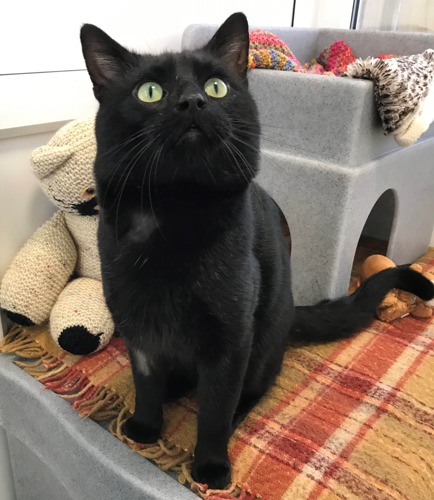 Emzi added: "As part of the process we carry out follow-up contact at around three days, seven days and 21 days following adoption to help the transition period between adoption centre and new home.
"We also provide support to the new owners and furry family-member during the settling in period to make sure they have support, should they need it. We also love the pictures we get back of them happy and settled in their new home too!"
Tyneside Adoption Centre is also celebrating rehoming their 1,000th cat with a competition for guessing the weight of 1,000 cat treats, as well as sharing videos and pictures of their homing success stories all on their social media pages. Follow them on Facebook, Twitter, Instagram and YouTube to join in the fun.
If you would like to adopt a cat of your own, visit www.cats.org.uk/adopt-a-cat to find moggies looking for homes in your area.