Following the success of the recent Elvis movie, Cats Protection is seeking a new home for a cat who does a great impression of the king of rock 'n' roll.
Five-year-old Marmalade came into the care of our National Cat Adoption Centre in Sussex because unfortunately the dogs in his household weren't keen on him.
This meant that he was having to remain upstairs without garden access, the stress of which was causing him to overgroom.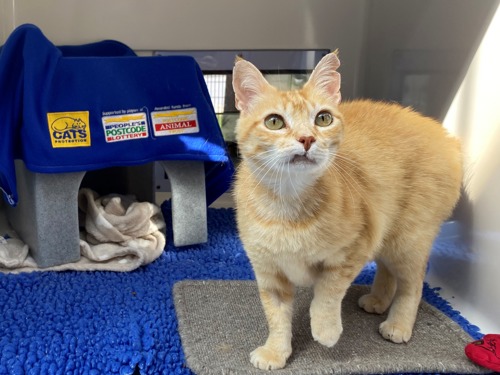 Despite this, the team say that with careful introduction Marmalade might be ok in a home with a dog, as he's previously enjoyed the company of canines, although he'd rather be housed without other cats or young children.
"Marmalade is an absolute superstar with bags of character," said Cat Care Assistant Emily Abrahams. "He's a real 'teddy bear' who loves a good fuss and will offer a lovely purr in appreciation.
"Just like Elvis, he's a real charmer and certainly won over all of us here at the centre with his loving nature and occasional lip curl. He's a real people-cat so we would love to get him into a new home as soon as possible."
Since 2018, players of People's Postcode Lottery have been helping Cats Protection to care for thousands of cats like Marmalade at our centres in England, Scotland and Wales, and this year they are also supporting our behaviour work.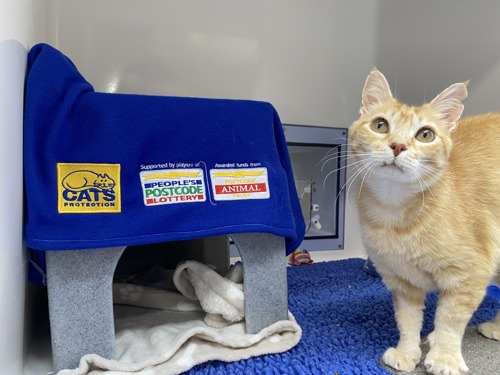 Cats Protection's Central Behaviour Officer Daniel Cummings said: "The first step when you notice your cat is overgrooming is to seek help in identifying the root cause. This may be medical or behavioural and the steps required to solve the issue may vary depending on this.
"It is also important not to punish or intensely interrupt the cat when they are overgrooming as this may cause distress – potentially making it worse. Instead, try to direct your cat's attention gently to something they like, such as a toy.
"As Marmalade's overgrooming is stress-related we are really keen to get him into a new home as quickly as we can as this will definitely help reduce his stress levels, particularly once he is able to get outdoors again."
If you live in the Sussex area and would like to enquire about adopting Marmalade, please contact our National Cat Adoption Centre on 01825 572 850 or at cattery.reception@cats.org.uk
If you live elsewhere, discover details on how to adopt from your closest branch or centre.