What it's like to work as a Cat Care Assistant at Cats Protection.
Cats Protection has thousands of cats in its care at any one time and many of these moggies are looked after in our 36 centres across the UK.
Cat Care Assistants (CCAs) work in our centres to ensure the needs of each cat are met, so their role involves everything from feeding and grooming to cleaning, socialising and administering medication.
Some of the cats that come in to our care are frightened, poorly or in desperate need of medical attention, so CCAs play an important role in helping these cats on their road to recovery.
Another vital part of their job is to match potential adopters with the right cat to make sure owner and moggy are happy, as well as provide information to the public on the best way to care for cats.
Cats Protection currently employ 207 CCAs and 17 Senior CCAs in its centres. Holly Cole is a CCA at our Cornwall Adoption Centre and explains more about why her job is so rewarding.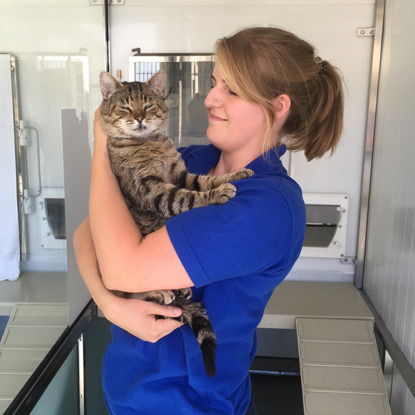 "I always try to provide the best care for the cats, which at times can be very challenging," said Holly. "We are often tight for time due to the high number of cats in our care. It does not look like a demanding job from the outside but it is so much more demanding than I anticipated – but that's what I love about it.
"There is always something to do; a pen to disinfect, a cat to microchip or health check, or a nervous cat or kitten that would benefit from a bit of extra socialising and of course not forgetting potential new owners to talk to.
"I have yet to find something more rewarding than spending hours and hours with a nervous cat, getting past the fearful and defensive behaviour to the sweet cat underneath, bringing them one step closer to being rehomed.
"I have worked at the Cornwall Adoption Centre as a Cat Care Assistant for almost two years, volunteered for two years prior to that and I'm still learning now.
"When I leave work at the end of the day I am still thinking about ways I can improve their welfare, whether that be through how I socialise specific cats or what enrichment they could try next. It also comes naturally as part of the job that by accident we are always talking and hopefully educating others about feline welfare and behaviour, whether that be family, friends or someone in the queue behind me in the supermarket.
"I thoroughly enjoy my job as Cat Care Assistant and feel so lucky to be in my position and able to offer help to the cats that come into our care."
This year, support from players of People's Postcode Lottery will help us to successfully care and find loving new homes for more cats, by funding essential Cat Care Assistant roles across England, Scotland and Wales. 
To find out how you can become a Cats Protection Cat Care Assistant, visit https://www.cats.org.uk/cats-protection-careers