A new home for black cat Little Mo thanks to her quirky feature.
Sometimes a cat's unusual appearance can help it find a new home, and that was certainly the case with Little Mo, who leaves her tongue sticking out of her mouth!

Indoor cat Little Mo was being looked after by Cats Protection's Lichfield & Tamworth Branch, who'd rescued her from a multi-cat household. Michelle Thomas was looking for an indoor cat, and visited Mo, who was in a comfortable, large pen at the home of her CP Fosterer, Denise.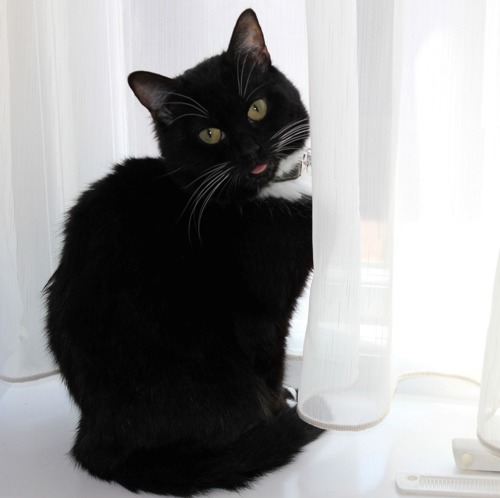 Michelle says: "Little Mo was high up on a shelf, with her little white paws and her tongue out. I think it was the tongue that did it, and I thought she looked so cute and had beautiful eyes."

Little Mo was rehomed with Michelle earlier this year, and after some initial shyness has blossomed into a delightful, friendly pet. She enjoys playing games with Michelle around the flat, sits on her lap and has a typically-feline interest in boxes.

"If I bring a box back home she has to jump straight in and sit there, it makes me laugh," says Michelle.

As she's a first-time cat owner Michelle is very grateful for the advice she received from the branch. "I would highly recommend adopting a cat from Cats Protection, the help and information I got was excellent."

If you'd like more information on caring for an indoor cat, take a look at our advice.