Can you help us find the owner of a mysterious moggy found alone in a Cardiff car park?
Lonely Daffodil was found wandering around St David's Multi-Storey in Cardiff by car park staff.
She was on Level 7 of the busy car park on Mary Ann Street from where staff called our Bridgend Adoption Centre for help.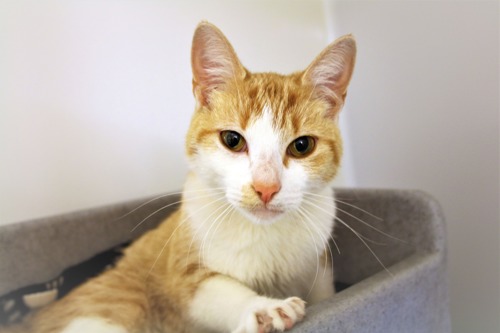 "We're thankful that staff from St David's got in touch so that we could go and collect Daffodil," said Adoption Centre Manager Sue Dobbs. "We think she may have travelled there inadvertently in someone's car, leapt out undetected and then become lost. She is a very friendly, sweet natured cat and someone must be desperately missing her.
"Sadly she's not microchipped otherwise we would have been able to get directly in touch with her owners.
"Situations like this really highlight how vital it is to both microchip your cat and keep the details up to date. Without a chip, it's really like searching for a needle in a haystack but we remain hopeful that we might be able to track down Daffodil's owner and get her home where she belongs."
A spokesperson for St David's says: "We're glad Daffodil is in safe hands with the team at Cats Protection and hope she is soon reunited with her family."
Madison Rogers, Cats Protection's Senior Advocacy & Government Relations Officer, adds: "It's always heart-breaking when a cat like Daffodil goes missing and does not have a microchip to help us quickly locate her owners, which is why Cats Protection is calling for microchipping to be made compulsory for owned cats across the UK.
"We're really grateful to players of People's Postcode Lottery who helped enable our campaigning work this year. We will continue to liaise with the governments across the UK on this issue which would provide cats with the safety that we already give to dogs."
If you're Daffodil's owner or have any information about her, please get in touch by emailing bridgend@cats.org.uk or calling 01656 724 396.
Find out more about the importance of microchipping and how it works.