Beautiful Bessie was hungrily searching bins for food after going missing from her home and crossing the River Avon
Our Evesham Adoption Centre received a call from a concerned member of the public who had seen a cat desperately searching for food in Evesham town centre for a number of days.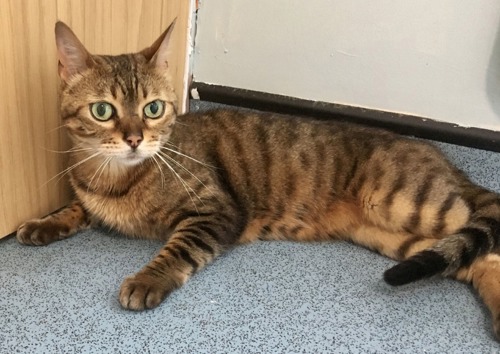 Bessie waiting to be collected at Evesham Adoption Centre
Lost and down-on-her-luck, the cat had been scavenging in bins and at one point was even seen sitting in the middle of a road trying to lick the remnants of a meal from an empty container.
Luckily the kind-hearted man was able to keep the cat safe while he contacted the centre who arranged to collect her. Upon collection, the centre team realised the cat was most likely a stray.
Centre Manager Charlie Hood says: "As soon as we saw the cat, we suspected she was missing from home as she had the distinctive markings, stature and behaviours of a Bengal, and we don't often encounter stray pedigrees! We scanned her for a microchip, as we do during every admittance health-check, and sure enough her chip number appeared on the scanner."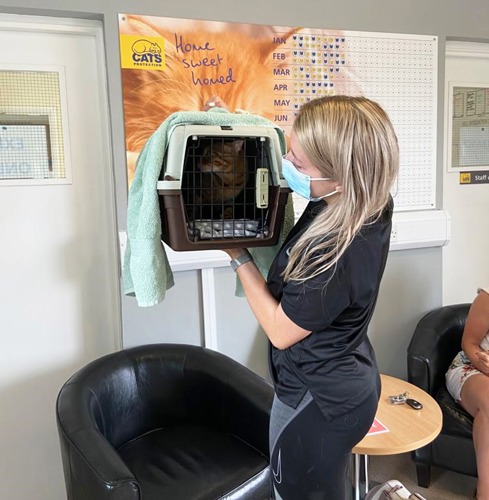 Bessie about to go home with her owner 
According to the information linked with the chip, the cat's name was Bessie and she had gone missing around three months earlier, in April.
The team rang the phone number linked with Bessie's chip information and her elated owner planned to collect her immediately. Bessie had travelled from her home just outside Bengeworth to the town centre, not a simple route for a cat.
Charlie explains: "Remarkably Bessie had travelled from the far side of Bengeworth to Evesham town centre. The distance itself is not unusual for an adventurous cat, however Bessie's route would have taken her through some very busy roads and urban areas – she will have even crossed the River Avon!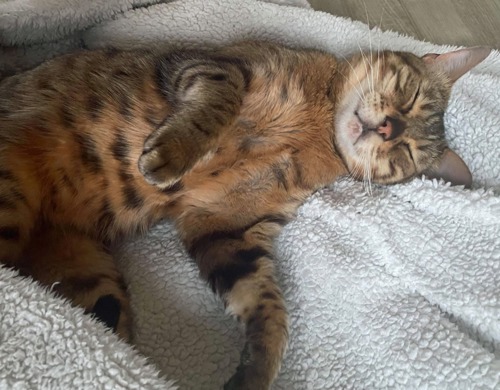 Bessie relaxing at home after her travels
"Luckily she took the route she did towards the town as the opposite direction from her home would have led to a dangerous dual carriageway.
"Once we made contact, Bessie's owner came to the centre within the hour, which we were very grateful for as Bessie was extremely vocal and energetic, keeping us on our toes!
"We were able to share lots of advice with her about how best to settle Bessie back into the home and also how to introduce her to the new kitten that she got while Bessie was missing."
Bessie's owner says: "I was so grateful to the centre for listening to the man's call and for going to collect Bessie so that her chip could be scanned and she could be returned home. Thank goodness she was chipped. We are so lucky to have the centre right on our doorstep to help look out and care for our furry friends.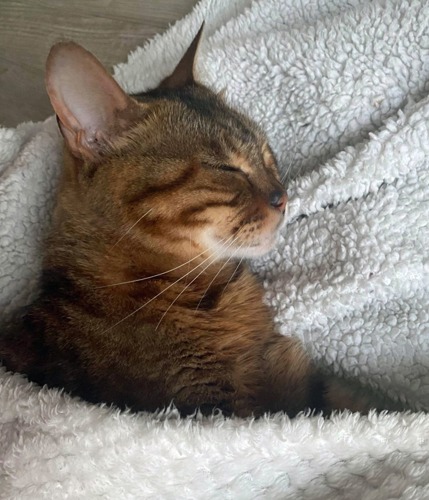 Bessie's scavenging days are behind her
"Bessie has been checked over by vets and is all healthy, she has had her vaccine, which was due while she was missing. She has been eating well and still remembers how to use the litter tray and is enjoying her catnip-filled toys. Now we can begin the nice, slow process of introducing her to the whole house and the new kitten!"
Madison Rogers, Cats Protection's Senior Advocacy & Government Relations Officer, says: "It's always lovely to hear of stories where cats have been reunited with their owners, but most of these happy endings are only possible if a cat has been microchipped. It is also vital that details are kept up to date on microchips, so owners can be contacted if their cat goes missing."
Cats Protection supports government proposals that would make microchipping a legal requirement for pet cats, as it is for dogs. We recommend microchipping as a safe, permanent and cost-effective method of identification to ensure more cats can be reunited with their owners if they go missing. 
This campaign to make microchipping compulsory is one of a number of issues we are working on to improve feline welfare across the UK. Our advocacy work this year is supported by players of People's Postcode Lottery, who help make this work possible and ensure a better future for one of the nation's favourite pets.
To learn more about microchipping, visit www.cats.org.uk/microchipping-your-cat