Northampton Branch rescues pregnant kitten just in time for her to give birth.
Grace, a young seven-month-old tabby kitten was reported to our helpline by a concerned cat lover as she was very thin, apparently pregnant and seemingly homeless, visiting their garden regularly.
Cats Protection's dedicated Northampton team investigated immediately, and after an unsuccessful search for Grace's owner she was taken in to their care. When getting checked over by the vet it was confirmed she only had about a week to go before she would be giving birth – she was rescued just in time.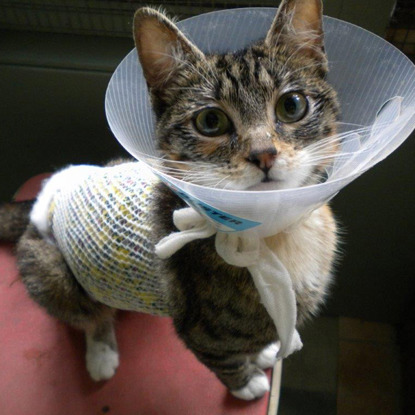 After the arrival of her kittens, Grace became very ill with mastitis and had to be rushed to the veterinary hospital where she was put on a drip and given medication. Her temperature peaked at 40.9 degrees Celsius and the team were incredibly worried about her, fearing the worst.
While the team were concerned about Grace they were also hand rearing her kittens to make sure they continued to thrive while Grace was so poorly and unable to look after them. Had Grace given birth in the finder's garden it is highly likely that she and her kittens would all have tragically died.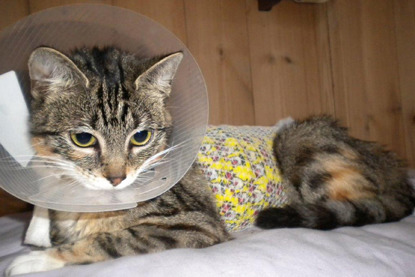 After two days and nights at the vets, Grace was discharged with a follow up visit arranged for two days later. Despite the immediate treatment, Grace had a particularly severe bout of mastitis and even the vets had not seen such an extreme case.
Throughout all of this Grace was a model patient and thoroughly adored by all of the veterinary team. In typical cat fashion she made no fuss at all when they had to flush her wounds on a daily basis and re-dress the wounds on her tummy caused by the infected mammary glands.
Grace had such a hard start to life as a young cat but happily she has made a full recovery thanks to our dedicated veterinary team. Shortly after her recovery Grace was spayed and a lovely young family were set on giving her a new home.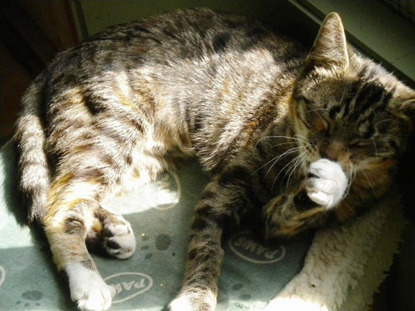 Can you help us to care for cats like Grace? Visit www.cats.org.uk/support-us to find out how you can support our vital work.