Kitten with infected eye rescued from near-death
Kitten Rosie Rags has survived a near-death ordeal and gone on to live in a loving new home thanks to a group of cat-loving volunteers and their local vet.
Little Rosie was just over eight weeks old when she was found almost dead with a deeply infected eye, fighting for life near some outbuildings in Potterspury.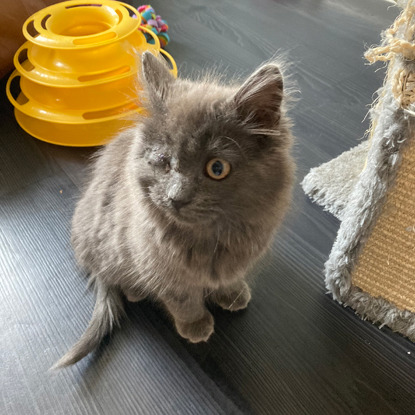 Little Rosie Rags was rescued just in time
The quick-thinking member of the public who spotted her called Cats Protection's Northampton Branch for help. 
The branch's trap, neuter and return volunteer, Brenda, was first to respond to the plea and went to the rural area where tiny Rosie was sleeping on a rock in the sun. 
The fearful kitten initially ran away weaving beneath nearby vehicles and into ditches and undergrowth. 
Brenda noticed Rosie's damaged eye and realised how extremely poorly the young cat was as she tried to run up a hill but collapsed in exhaustion at the top.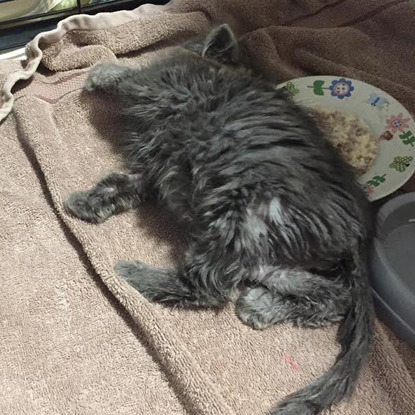 Rosie, exhausted and frail, after arriving in the branch's care
Brenda slowly approached and was able to collect the tiny, scared, blue-grey, long-haired kitten and rush her to a fosterer who would take her straight to a vet.
Fosterer Teresa Allaway was next to help frail Rosie. With over 10 years' experience caring for foster cats she knew it was a race against time to ensure Rosie got the immediate care she needed to save her life and arranged for her to visit Spinney Veterinary Hospital. 
They kept Rosie alive out-of-hours on a Saturday night before operating to remove her eye the following morning.
Rosie was only just past the age at which kittens would usually leave their mothers and would not have survived if she hadn't been found when she was. 
A happy ending for Rosie
The operation was a success and with strong pain relief and antibiotics to fight infection, the young cat was nursed back to health, this time by fosterer Paula Francis who was able to provide round-the-clock care.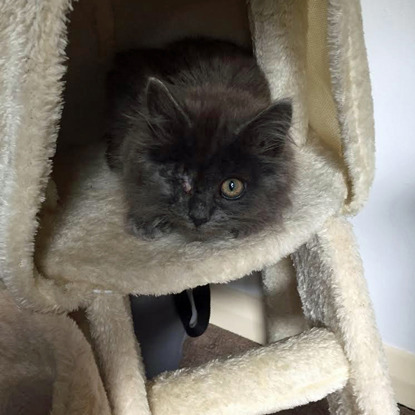 Rosie recovered well from her ordeal and learned how to be a kitten again
Paula nurtured Rosie from the earliest days after her surgery when she hand-fed her chicken to build her strength and appetite, and reminded her how to be a kitten with play and socialisation once her eye had healed.   
The branch's education volunteer Diana Johnson said: "Just over a month after she was rescued Rosie Rags, as we called her, had blossomed into a striking kitten with luxurious fur and a zest for life. She has now gone to live in a loving home and her journey really showed what a difference dedicated volunteers and first-class veterinary skills can make.  
"We know her life hung by a thread when we first collected her, so to see her playing at her fosterer's and hear how she's enjoying life now is both poignant and life-affirming. Our little Rosie has been a real-life phoenix rising from the ashes." 
Susan Atkins, Veterinary Surgeon at Spinney Veterinary Hospital, added: "Rosie is an incredibly lucky kitten. She would not have survived the night if she had not been found and rushed to Spinney Vets by Teresa. 
"She required emergency treatment to stabilise her condition before she was strong enough to have the surgery to remove her badly damaged eye. We are all so thrilled that she has recovered so well and found a loving home."
Now 13 weeks old, Rosie has settled in her new home in Northampton and has been renamed Tinkerbell. 
For further information about the Northampton Branch and cats in their care visit www.cats.org.uk/northampton
If you would like to volunteer with Cats Protection, visit our Volunteering page to find an opportunity in your area.