We've been following the progress of Daisy and her adorable kittens in our kitten watch series – here's an update from the kittens' new owners about how they're settling into their homes.
Back in February we began our kitten watch series, following the progress of an adorable litter of kittens being cared for at Cats Protection's Bridgend Adoption Centre.

In May they were finally old enough to go to their forever homes and we have now had an update from some of their new owners on how three of the kittens are getting on. Their lovely mum Daisy was also adopted by a loving new family, and we have an update on her too!
Emma and Eira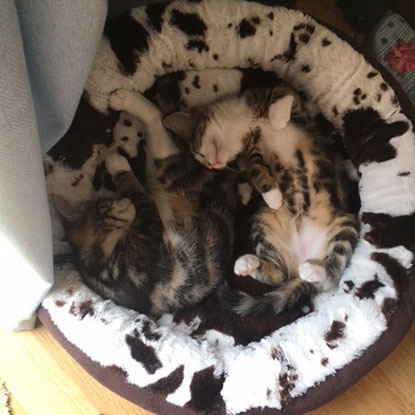 Sisters Emma and Eira were adopted together and have now been renamed Lilly and Lollipop. Their new owner said: "They are just the most delightful little kittens ever. They settled in so well from day one and they have grown so much and are full of character and mischief. Emma was much smaller than Eira but she now weighs more as they were at the vets recently for their jabs. I don't know how, as Eira does not like Emma getting anything and tries to steal her food and love/attention.

"They are both very vocal, in particular Emma as she likes a good old meow when she needs/wants something and I call them our little tractors as they purr so much, in particular, Eira. They follow me around the house and play together so beautifully.

"Thank you so much for these two beautiful little girls, you guys and Daisy did so well. Myself and my children, who are aged eight and nine, are just so in love with them and they get treated like royalty so they are very happy...as are we! Thank you for all the wonderful work you all do over at Cats Protection, you truly are gems."
Dewi
The only boy of the litter, Dewi, has now been renamed Ozzy. His owner said: "He is a fantastic kitten. He is very playful and happy and enjoys sitting in the garden with us. He has started to become more confident and welcomes us when coming home and he always takes an interest at dinner times."
Daisy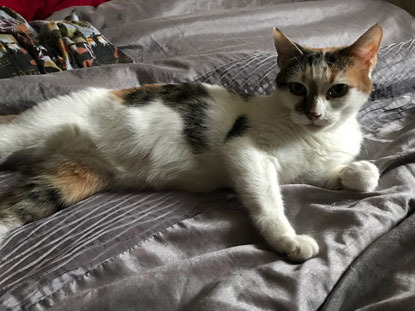 Three-year-old Daisy came into the Bridgend centre after her owners moved away and left her behind. She was already heavily pregnant when she arrived and did a wonderful job of giving birth to and raising her litter. She has now been neutered, so she doesn't have to worry about going through the ordeal of having kittens again, and is enjoying the chance to relax in her new forever home.

Her new owner said: "Daisy is settling in very slowly, loving the attention and is very affectionate but her nervousness was apparent on bringing her home. She needs a lot of reassurance when we are standing up and she is on the floor, she clearly doesn't trust feet. On the whole she is a delight and very clean but it will take a long time to undo any traumas she has had."

It's lovely to hear that the kittens and Daisy are happy and healthy in their forever homes.

If you'd like to learn more about how Cats Protection prepares kittens for their forever homes, take a look at our new Kitten Academy blog series following the progress of adorable kittens Apple and Apricot!