A new start for three kittens found at a landfill site.
Many of you were moved by the plight of Scrappy, Dusty and Rusty – three tiny kittens found at a landfill site last November.

Our Ipswich Branch took in the five-week-old kittens after they were spotted and saved by site workers.

The kittens bounced back from their ordeal thanks to the branch, and we're pleased to tell you that all three found happy new homes in December.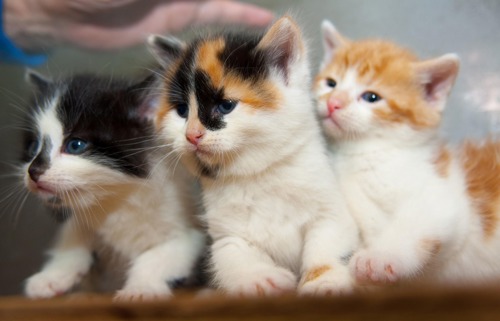 (l-r) Scrappy, Dusty and Rusty have been rehomed. Photo: David Garrett Photography, Ipswich
Caroline Kennedy rehomed brothers Scrappy (black/white) and Rusty (ginger/white) and has renamed them Chaos and Smudge.

She says: "A friend of mine works for CP and told me about the kittens. As soon as I heard about them I knew I had to do something!"

Caroline first planned to rehome one kitten, but on meeting the pair agreed to take both!

She adds: "Considering what they'd been through they were behaving normally, they were typical kittens, into everything!

Chaos and Smudge have settled in well and are keeping their new owners entertained.

"Chaos is into everything, he's completely mad," says Caroline. "Smudge is the more laid-back of the pair. They both get on well with our rescued Rag Doll cat Daisy, who's an old girl and mothers them.

"They're both lap cats – Chaos is my lap cat and Smudge is my husband's. The kittens' favourite game is running up my legs!"

Debbie Clark homed tortoiseshell Dusty and has renamed her Kassie. Debbie's husband spotted the kittens' story on the BBC website and the pair decided to rehome her as she reminded them of their previous cat.

Kassie moved into her new home with Debbie, her husband and eight-year-old son just before Christmas.

"She's been brilliant," says Debbie. "We thought she'd be a quiet cat but as soon as we got her home she was nibbling around my husband's feet and playing with the coffee table legs!

"There's something funny she does which makes my son laugh. She lays sleeping, stretched out, under the bed runner and you wouldn't know she was there."

It looks like all three landfill cats got very lucky with their new owners. To support CP's work with abandoned and unwanted cats, just click here.