Pawsome Players stream gaming, gigs, cook-alongs and more to encourage their online followers to donate
Cats Protection is searching for more recruits for our Pawsome Players community, where streamers, content creators and gamers raise money for unwanted cats without leaving home.
Our amazing Pawsome Players have raised over £52,000 for cats across the UK since 2019 by sharing their love for all things feline with their online communities.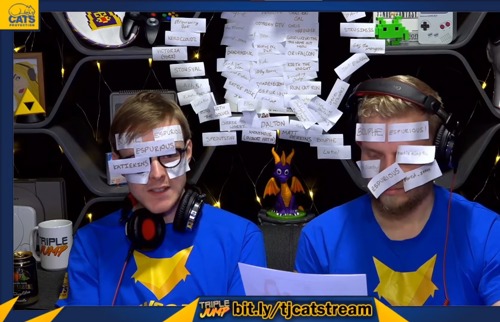 Ben and Peter during their Pawsome Players fundraising stream
Ben Potter and Peter Austin from Newcastle, who are both streamers for Twitch channel TeamTripleJump, signed up for Pawsome Players after visiting Cats Protection's stand at EGX in 2019.
"We both like cats and were impressed with the Cats Protection team's knowledge and enthusiasm for online gaming," said Ben. "For our first stream we recreated a Cats Protection adoption centre and the Pawsome Players logo in a game of Minecraft.
"When a viewer pledged a donation over a certain amount, we wrote their gaming handle on a Post-it note and stuck it on our faces while promising to post that gaming handle on little signs within our future Minecraft streams.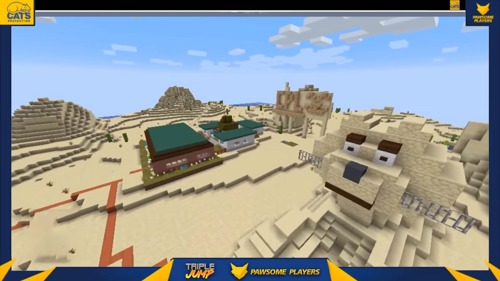 A cat and Cats Protection adoption centre built by Ben and Peter in Minecraft
"By the end of our first stream, we had a lot of Post-it notes stuck to us! It was great to see so many cat lovers rallying to help Cats Protection and it helped us to attract more followers for our future streaming activities."
Hannah Rutherford, who streams via her Twitch channel lomadiah, also ran into the Cats Protection team at a gaming event and decided to do a series of fundraisers for us.
"I teamed up with my good friend RadderssGaming to do a collaborative Halloween stream of a scary game," said Hannah. "As black cats are one of the least adopted, we thought it was only right to fully embrace the spooky Halloween vibe and raise awareness by dressing up in costumes while streaming.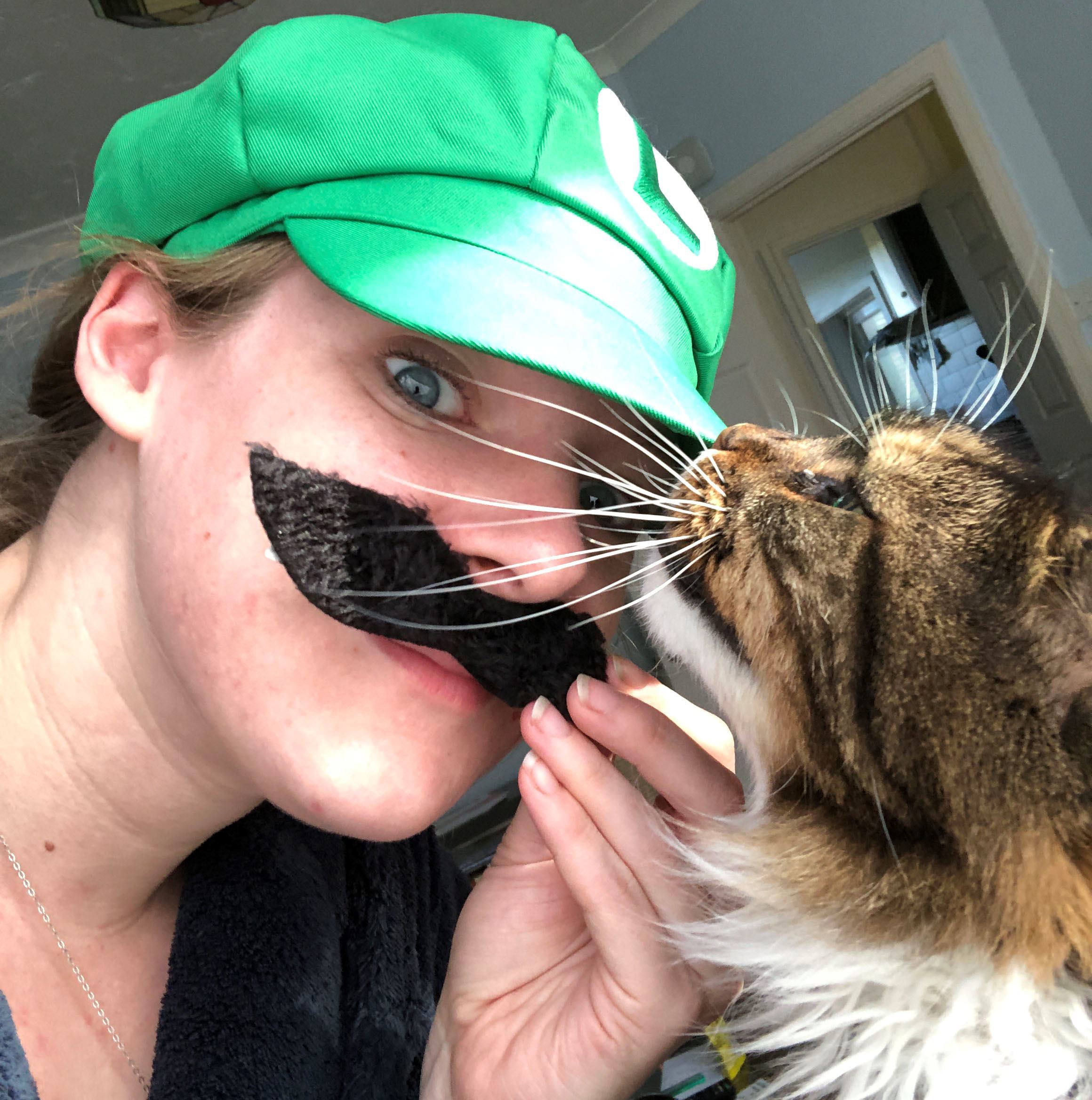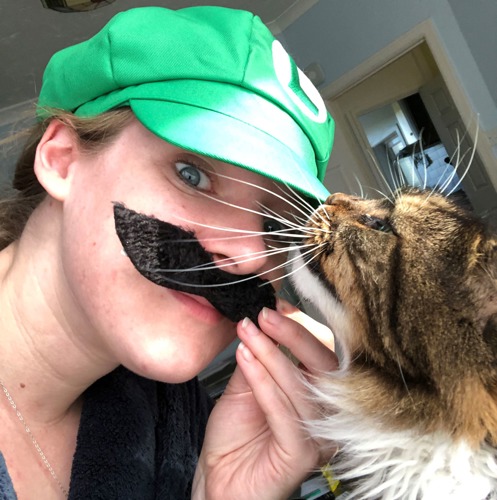 Hannah, dressed as video game character Luigi, with her cat
"I've had cats in my house since I was a kid, so they've always been an animal that's close to my heart. If you're a fellow cat lover, it's a fantastic cause that helps cats around the UK who are in desperate need of somewhere to call home!"
Pawsome Players can get involved by hosting an online stream on Twitch, Facebook Live or YouTube Live and setting up a fundraising page through JustGiving or Tiltify. Then invite your friends, family or online community to enjoy the stream and donate to Cats Protection.
Some streamers play games, but you could stream just about anything. Host a cook-along of a favourite recipe, perform a virtual gig, share crafting skills or just chat about your love for all things feline.
A great way for streamers to fundraise for Cats Protection is through Tiltify. Set up a Tiltify fundraising page and you can choose targets to inspire your community to help you achieve your goals. Tiltify has this useful guide to help you get started.
Tips to make your Pawsome Players fundraising a success
Incentives can really help get those donations rolling in. How about having a one-minute dance party for every £20 donation you receive? Best friend donated a fiver? Add their name to your Post-it note hall of fame on screen.
A donate-to-vote poll can tap in to your community's competitive streak. Who's the best retro TV cat: Top Cat or Garfield? Ask your community to make a donation to ensure their favourite comes out on top.
If you're part of an esports team or a guild or clan, then you can collaborate on a single campaign and work together to raise money for Cats Protection.
Interact with your viewers as much as possible. Take breaks from gameplay (which is always a good idea!) and share some of the super-cute videos from Cats Protection that you'll receive in your inbox when you sign up as a Pawsome Player.
Make sure you let your community and your friends and family know your plans and remember to thank your donors!
The funds raised by our Pawsome Players will help cats like nine-week-old kitten Cosy, who was spotted living on a roof in Ballymena, Northern Ireland last December.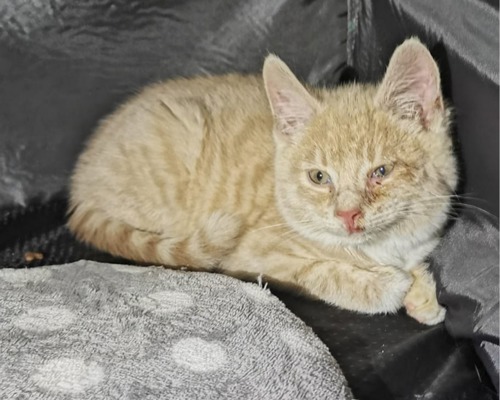 Cosy the kitten who was rescued by our Ballymena Branch
Cosy was extremely cold, crying and suffering from kitten flu which can be deadly to young cats if left untreated. He was only just past the age when he could be away from his mother and he could have become prey to the many magpies who circled overhead.
Our volunteer-run Ballymena Branch came to Cosy's rescue after onlookers got in contact. After weeks of tender loving care, Cosy is going to a new home while the branch continues to look for Cosy's mother and any possible siblings so that they can be helped too.
If you'd like to join the Pawsome Players team, you'll find a registration form and lots of helpful information to get you started at https://www.cats.org.uk/support-us/pawsome-players