After a People's Postcode Lottery volunteering day at our Glasgow Adoption Centre, Kenneth adopted a kitten in need
Kitten Layla, who was born to a stray mum, has found a new family with animal lover Kenneth Lennon.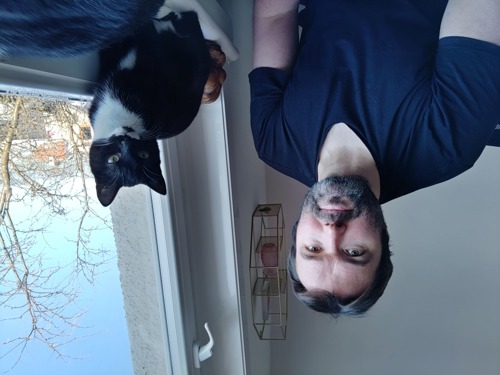 Kenneth with his new feline friend Layla
Kenneth works as a Customer Experience Agent at People's Postcode Lottery and in 2019 spent a day volunteering at our Glasgow Adoption Centre, which is one of many supported by lottery players.
Having lost one of his cats and moved to a larger property, he felt that the time was right to settle a new cat into the home.
"After volunteering for a day at the centre through my role at People's Postcode Lottery, I knew that if I ever got a new cat it would be from there," said Kenneth.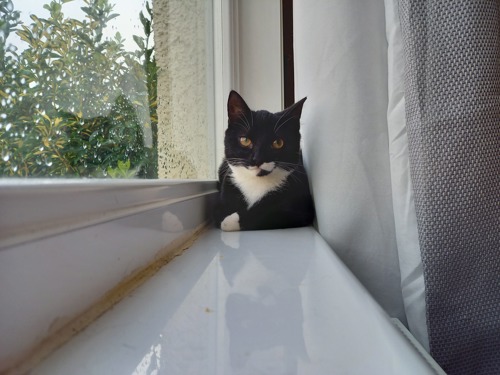 Layla in one of her favourite snoozing spots
"I was amazed by the scale of their work and the level of care that they devote to each cat while they await a new home. The team is so knowledgeable and clearly dedicated to what they do.
"I got my existing cat Bill and his sister Bonnie as kittens 12 years ago. Sadly we lost Bonnie a couple of years ago and, while I know many cats are perfectly happy being on their own, Bill does seem to enjoy the company of other cats. Since we moved to a house with a bigger garden, I often see him following the neighbouring cats around, so I had a feeling he would take well to having a new cat in the house."
Having read lots of advice on the Cats Protection website, Kenneth decided that Bill would be more likely to accept the arrival of a kitten than another adult cat. So he contacted the centre and they let him know that Layla was the last of her litter available for adoption.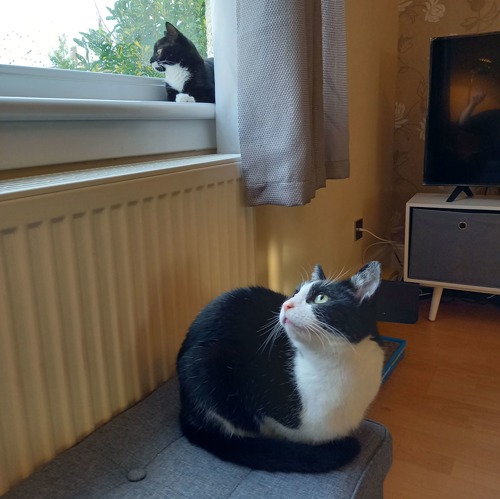 Layla (on the windowsill) and Bill (by the radiator)
"We met Layla virtually and decided straight away that we wanted to adopt her," added Kenneth. "We had been thinking of naming her Luna but as I'm a big fan of Eric Clapton, and his song of the same name, we decided to keep her name as it was.
"The team at Glasgow Adoption Centre were amazing, guiding me through what needed to be done to adopt Layla. On their advice, we kept Billie and Layla in separate rooms for the first week, gradually introducing them to each other's scent by swapping items that they had been lying on. Even so, it wasn't plain sailing at first, with Bill initially being quite wary of Layla.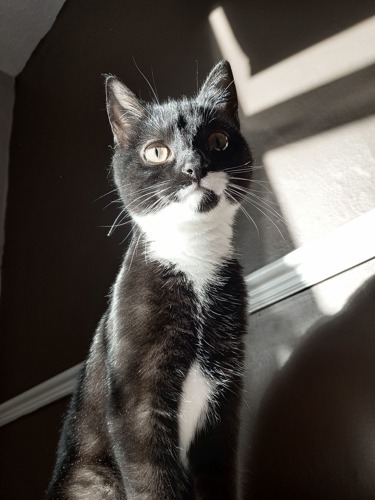 Layla soaking up the sunshine in her new home
"After chatting with the team we went back a step and kept them separate for a few more days. We then focused on what they like doing most, which is eating and playing, and used these activities during introductions, gradually lengthening the amount of time they were together.
"Then one day Bill saw Layla playing with one of his toys that he likes and he just couldn't resist joining in. The rest, as they say, is history. We no longer have to keep them apart and they've been sniffing each other's faces when they meet and sleeping close to each other, although not quite paw to paw just yet. I think having Layla around has given Bill a new lease of life as he's not played this much in ages!"
To find out more about how players of People's Postcode Lottery are helping to support our work, visit https://www.cats.org.uk/support-us/peoples-postcode-lottery.
If you're interested in adopting your own new feline friend, visit www.cats.org.uk/adopt-a-cat to find out how.